Bantam Syclops Details
---

Description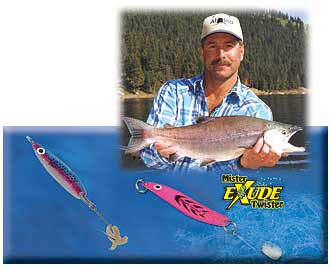 Mepps Bantam Syclops were designed to be trolled, cast, drifted or jigged. They can be dressed with a single Mister Twister Exude Corn Niblet, Curly Tail Grub, Exude Roe or live bait. In fact, the Bantam's action increases when the hook is tipped, unlike many other light spoons.
The Bantam Syclops is also an ideal trolling spoon when run behind dodgers, a flasher or simply by itself using either downriggers, planer boards, Dipsy or Jet divers. They are also perfect for long lining with or without a little weight.
Drift fishermen love the way Bantams flash in current, and ultralite casters love the Bantams enticing side-to-side wobble on the retrieve.

Perfect for trolling and light casting. The Mepps Bantam Syclops is especially effective when dressed with live bait, Mister Twister Exude Roe or a single Mister Twister Exude Corn Niblet. Two sizes... #00 (1/16 oz.) or #0 (1/8 oz.) when just a little more weight is needed. Balanced wobble and flash make the Bantam Syclops the perfect choice for trout, kokanee or walleye.
Testimonials
Reviewer:
Pete Wise (East Licking Creek, Port Royal, Pennsylvania)
Fish Caught:
Trout, Brook - Trout, Brown - Trout, Rainbow
Ultralight spinning for trout is my passion, and I can always count on Mepps lures for success. On a recent trip to a favorite small stream, I caught and released native brook trout as well as wild rainbows and browns...all taken on a #0 Bantam Syclops spoon in silver and red. This great lure has never let me down. It is one of my "go to" lures for trout and panfish, and the larger Syclops are outstanding for river smallmouth bass! Simply put, Mepps lures catch fish when nothing else will.
Reviewer:
Tom Barnett (Little Red River, Heber Springs, AR, Arkansas)
Fish Caught:
Trout, Brown - Trout, Rainbow
I have fished for trout for 30 years, mostly in Arkansas's Little Red River, using ultralight spinning equipment. Certain stretches of the river require single, barbless hooks for catch-and-release fishing. About a year ago I tried a Bantam Syclops with its single hook easily made barbless, and it is now my lure of choice -- with and without the barb. I love the action of the lure and the results. As a plus, the weight and the design make it ideal for fishing shallow shoals without snags.
Reviewer:
William Chalmers (Indian Brook Reservoir In Essex Vermont, Vermont)
Fish Caught:
Crappie (Black)
I never caught a Crappie ever before. I have caught lots of fish, like Trout, Bass, Pike and Pickerel but never a crappie. I was trying different lures with no luck at all. I then put on a 1/8 ounce Silver and Red Bantam Syclops single hook and got 4 crappie in like half an hour. Which I thought was great. One of the crappie was a bit over a pound and a bit over 12 inches. I thought it was a Bass. Another great lure from Mepps.

Reviewer:
Derrick Broeckel (Ice Fishing Wisconsin Lakes, Wisconsin)
Fish Caught:
Bluegill (Bream, Brim) - Crappie (Black) - Crappie (White) - Perch, Yellow - Walleye
This bait in the #00 size is a phenominal ice fishing bait. I use it as an attractor, I take the hook off and tie a dropper about six inches to a foot long from the split ring and add a very small ice jig. This bait works great on pannies and on walleyes when tipped with a minnow or waxie. It adds weight to get your bait down quick, and adds alot of attraction, something I find necessary especially when jigging for perch, crappie, or walleye. I have had some sucess ice fishing bluegills with this setup but it doesn't seem as productive as for the other species, the added weight may be a little too much for spooky bluegills.

Reviewer:
M.D. Prout (Douglassville, Pennsylvania)
I want to thank Mepps for creating one of the best trout lures ever produced. I have always been a rooster tail spinner fisherman, until a few years ago. Now I don't even purchase traditional spinners. I use the Bantam Syclops for all of my lure fishing for trout. I have caught Trout, Crappie, Largemouth and Smallmouth Bass, Rock Bass on this amazing lure. It all got started several years ago when my brother and I were Shad fishing in the Upper Deleware River in Pennsylvania. My brother put on a traditional Mepps Syclops and caught some Shad. I guess they couldn't resist the wabble and glimmer of the lure. Later that year I purchased some of the Bantam Scyclops in 1/8 oz size and have been "hooked" ever since. Most of the time when I'm fishing I don't advertise about what lure I'm using. This is my best kept secret locally and afar. Thats not particularly good for Mepps sales along the stream, but it keeps me catching the agressive trout when others are not doing much. I will add that I make some modifications to the lure when I'm using it. I swap out the single hook for a size 12 or 10 GOLD treble hook. This works best for me. I don't add any dressing to the hook, I don't need to. The wobble and glimmer of the lure work well, as is. In my opinion, the Mepps Bantam Syclops is the best Trout lure there is. I will not tell you exactly how to fish it, but I will reveal my favorite color, it's the shimmery Green Platium with black bars, (not Chartruese). I will add that all of the colors do work well. So if you ever find yourself in the Wharton Store in Potter County, Pennsylvania be sure to look for my picture on the "Wall of Fame" I'll be the guy with the Big Slammer Brownie, and an even bigger smile :-)
Reviewer:
Sean Eslick (Coppell, Texas)
I love this lure! I always attatch a fly to it's back so I can cast it with a spincasting reel.
Write a product testimonial and share your fishing experiences with other customers.
Fish Species
Sizes #00 and #0

Kokanee (Landlocked Sockeye) Salmon
Links & More
Catalog PDF pages
Articles
Brochures