Crawler Harness
View all Crawler Harness to quickly see all choices. This is a great way to easily order different combinations.
Get 20% off and Free Shipping. Learn more.
Crawler Harness Details
---

Description
Each Mepps Crawler Harness features: an interchangeable spiral-wound stainless steel clevis for quick and easy blade changes; a 2/0 single hook and an ultra-flexible, kink-resistant 20lb. braided, stainless steel stinger cable, durable enough to last for years, with a loop end for easy changing of the 2/0 stinger hook.
Fish Species
Size #4 and #6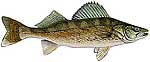 Walleye