Syclops
View all Syclops to quickly see all choices. This is a great way to easily order different combinations.
Get Free Shipping. Learn more.
Syclops Details
---

Description

Spoon fishermen around the world are limiting out on the Mepps Syclops. Whether you fish for pike, salmon, trout, walleyes or panfish, there's a Syclops just right for you. Available in five sizes and a wide variety of proven colors, no other spoon is as versatile as the Mepps Syclops. It casts easily and can be trolled at almost any speed. It can also be vertically jigged making it ideal for ice fishing or deep-water vertical jigging.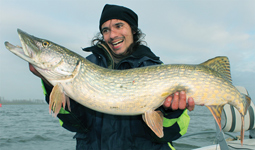 Use #00 Mepps Syclops for panfish or stream trout. A #0 or #1 Syclops is perfect for smallmouth bass and walleye. Try both #1 and #2 Syclops for largemouth bass, or #2 and #3 Syclops for coho or Atlantic salmon. The #3 Syclops is also perfect for trophy northern pike and tackle bustin' king salmon. In fact the #3 hot orange Mepps Syclops is one of the most effective lures for northern pike you'll find anywhere.
Saltwater Syclops

The legendary Syclops spoon with its outstanding side-to-side wobble has been joined by the new Saltwater Syclops. Built to hold up to the most brutal saltwater conditions and fish, the Saltwater Syclops components are all corrosion resistant: nickel or gold-plated blade finishes, brass bodies, stainless steel split rings and perma steel treble hooks.
Testimonials
Reviewer:
Tyler (Valley, Nebraska)
Fish Caught:
Pike, Northern - Trout, Lake - Walleye
My family and I head north to Ontario, Canada every year. The first few years we would take tackle box among tackle box with everything and the kitchen sink. The third year we stopped at a small tackle and bait shop in Red Lake, ON and picked up a couple of the Mepps Syclops. Figured we would give them a try. The clerk said they worked well. Have not looked back since. They work especially well for Pike, troll with them and you'll get plenty of walleye. I lean towards the Firetiger. Every year I bring one home that didn't get lost and it is just mutilated and scarred from catching so many. Great lures. For the price there is no reason to not have at least one. Thanks Mepps.
Reviewer:
Josh White (Beaver Dam River, Lowell, Wisconsin)
Fish Caught:
Bass, White - Pike, Northern - Walleye
The Gold #00 Syclops was a killer bait. I found it on shore one day and never knew Mepps made spoons and since the white bass run was on, I was psyched to try it out. And, man did it catch the whites bad. I outfished all of my friends who were tossing small Daredevils and Twister. I caught some walleye and pike while I was at it, too, but as soon as I went to try a different bait, I didn't catch a single fish after. I guess they just love the erratic action of the Syclops.
Reviewer:
Jim Fritz (Ear Falls , Ontario, Canada)
Fish Caught:
Pike, Northern
Just returned from our annual fishing trip to Anishinabi Lodge in Ear Falls, Ontario. We really only need one lure, since we caught all types of fish on the same lure. That lure was the 1 oz silver Syclops. Our party landed several northern in the 35 to 40 inch class, several walleyes 18 to 24 inches, jumbo perch, smallmouth bass, and lake trout. It was amazing.
Reviewer:
Duncan Campbell (Grand Lake, New Brunswick, Cayman Islands)
Fish Caught:
Pickerel
Went fishing with my grandson on October 18 in skinny water for Eastern Chain Pickerel. We were using the Hot Orange #2 Syclops equipped with a Siwash single hook, we hooked thirty of various sizes from 12 inches to two feet. We lost half as many. I have never seen a lure that they took so eagerly. This was my second great fishing with Syclops. A month before, we also H/R at least two dozen pickerel, some nearly 30 inches in length. Must find some #3 Hot Orange Syclops for next season.
Reviewer:
Graham (Erie Canal, Brantford Ontario, Ontario, Canada)
Fish Caught:
Bass, Largemouth - Bluegill (Bream, Brim)
Fishing at a local spot, always catching bluegill,shellcracker, pumpkinseed, and other panfish with my size #00 glo pink/white Mepps Syclops. All was normal, whacking panfish off the bridge, when a 20" largemouth bass strikes my lure, beauty. I use this lure for a variety of fish, all seem to want it. Great job Mepps, looking forward to more fishing.
Reviewer:
Jeff (West Branch Lake, Upper Peninsula, Michigan)
Fish Caught:
Pike, Northern
The number 2 Hot Orange Syclops is the best pike lure I have ever used. This lure is ALWAYS tied onto one of my rods when me and my fishing buddies are fishing our favorite U.P. lakes. I bought the number 2 which worked great, next year I'm going to try the number 3 which will hopefully attract the bigger pike. My only complaint would be the hooks, I replace the original hooks with sharper ones, which is no big deal. The Hot Orange is definitely a great color for pike. I also had some luck with the gold color, but the Hot Orange is the one that is always tied on. Thank you Mepps for a GREAT lure.
Reviewer:
Joshua Murrow (North East Kansas, Kansas)
Fish Caught:
Bass, Largemouth - Bass, Smallmouth - Bass, White - Crappie (Black) - Crappie (White) - Trout, Rainbow - Walleye
I have fished the Syclops for so long I don't remember using any other spoon. The Syclops can be casted, jigged or trolled. It is deadly throgh the ice or casting for bass. The #00 is excelent for crappie and trout and the #1 and #2 is promising for bass, walleye and other larger fish. I dont think you can fish this spoon wrong, just put it in the water and pull them out. Silver, gold and the black-and-white are good colors. The colored spoons are good with single hooks with a Mister Twister Grub.
Reviewer:
Will Knapp (Corpus Christi Bay , Texas)
Fish Caught:
Redfish
Others had reported the fishing slow, but, we were soon into an amazing day of fishing. We caught redfish, speckled sea trout, lady fish, flounder and a number of other fish species that I haven't yet identified. All were caught on the gold or silver Syclops saltwater lure. A great product... I will have them next trip and would recommend them to anyone.

Reviewer:
Mike Skenadore (Legend Lake, Keshena,, Wisconsin)
Fish Caught:
Bass, Largemouth - Pike, Northern
I went out after work on October 24th to fish for Northern. I caught a few nice northern but to my surprise I caught more than 10 largemouth bass. The largest bass was 3lbs with several being over 2 lbs. The strikes were aggressive and I didn't miss a fish. I am impressed.
Reviewer:
Steve (St. Marys River Power Dam, Sault Ste Marie, Ontario, Canada)
Fish Caught:
Salmon, Chinook (king)
I purchased a Hot Orange/Chartreuse size #2 two days ago, Sept 3, 2012 and went fishing for salmon last night, around 8pm. On the Third Cast, I hooked a 16lb Chinook length was 31-32".

I tried many lures from Pixies to other Great Lures for 3 weeks, caught not a darn thing, then this lure on the Third Cast produced a fish, a wonderful fish.

I also puchased a few other syclops a Glow Blue/White and a Glow Pink/White and also a Blue/with silver sticker on it, i tried the blue/ silver sticker and caught nothing yet. I have yet to try the Glow models.

I was the only one out of 18 ppl fishing there last night to pull a fish and guess what no one had this lure color and wham bam thank you mame for me.
Keep up the good work Mepps
Reviewer:
Gary Gore (Rainy Lake, Ontario, Illinois)
Fish Caught:
Bass, Smallmouth - Perch, Yellow - Pike, Northern - Walleye
The Syclops lure year after year proves to be the TOP lure in my tackle box. I used to use only orange, but have recently found that experimenting with different colors has a huge reaction to fish strikes depending on the weather, water temp, etc. This past June in Canada, Northern were chasing the orange, but slamming the silver Syclops. It made for a wonderful trip and an addition to my wall with 38" Northern with a 16" Girth. Thank You Mepps!
Reviewer:
Thomas Winger (Oseetah Lake, Saranac Lake, New York)
Fish Caught:
Pike, Northern
I live in Chicago, we have been to the Mepps store for a great tour last year. I'm a believer in Mepps and always use them. On our recent trip to the Adirondacks, I caught several fish smallmouth, perch and several northerns all using Mepps. I have converted several local fishermen to using Mepps it's a great product made by great people in Antigo.
Reviewer:
John Bailey (Lake Winnibigoshish , Minnesota)
Fish Caught:
Pike, Northern
We recently took a week of vacation to Lake Winni in Northern Minnesota with my cousin, for some Pike fishing. Not fished for these fish much before, I tried the normal spoon style lures you hear about. The first day I only caught one Norhtern late in the afternoon. Day 2, I switched over to the only lure I had been able to find at any store, which was the #3 Silver Syclops. I had been told to try to get some of these lures but we could not find a store anywhere that had them, except for one little sporting goods store in Minnesota that had 1, #3 Silver Syclops! I immediately started catching fish and this lure became the hot lure of the trip. I was amazed! There were times when I was the only one catching fish on the boat! I had a hot streak on one afternoon of 7, 30" plus Northerns in about 30 minutes! It was a blast! After a week of Pike fishing and loosing track of fish count caught, (I caught and landed at least 35 large northerns) I am completely sold on these lures. Alot were in the low 30" range weighing around 9 - 10 pounds each. It was awesome! I am going to stock up on more Syclops #3 lures for the next trip! Thanks Mepps!
Reviewer:
Dustin (Lake Manitou, Ontario, Canada)
Fish Caught:
Trout, Lake
First time jigging through the ice. Fishing in deep, clear water. We hadn't had much luck for about a week. I've never had much faith in any lure but a Mepps. So I bought a Hot White #2 Syclops and dropped it down the hole. 6 fish in 2 days!! The little ones hit it, the big ones love it! I'm gonna get a couple more colours and sizes. Can't wait to try them in some moving water. Thanks Mepps!!
Reviewer:
J. Patterson (St. Mary's River, Ontario, Canada)
Fish Caught:
Salmon, Pink
There can be no better lure than a Mepps Syclops in the St. Mary's River. The "rapids", as they are called around here, empties Lake Superior into Lake Huron. This year the pink salmon and chinook run is unbelievable. What is more unbelievable is how the pink salmon cannot resist a slowly jigged Syclops as it passes through the deep holes in the river. Whether I am drifting it, jigging it, or simply casting, the salmon respond. I don't think Alaska could compare to the fishing that we have had the last few weeks. Thanks to the Mepps company for an outstanding lure.
Reviewer:
Grant Weaver (Lake Winnebigoshish, Minnesota)
Fish Caught:
Walleye
Last year a friend and went on an all day fishing excursion on Lake Winnie. Both of us used the Syclops which is the only lure I carry when fishing for pike. We ended up with 46 Northern and 1 walleye on the day. A few in the 8 pound range but mostly 1-5 pounders. It was the best day of fishing I have ever had in my life and I owe it all to the Syclops. We were using Blue/Silver and Silver/Pink. Both #3's.

I just got back tonight from another trip to Winnie. I was there for 3 days and I ended up with 24 northern and 1 walleye. Nothing over 5 pounds but I did snap off on something HUGE. 15Lb Test at the boat. Never saw it. Again I owe is all to the Syclops and those same 2 color schemes. I will be ordering 10 of each before my trip next year.
Reviewer:
Zachary (Athabasca River, Jasper, Alberta, Canada)
Fish Caught:
Trout, Dolly Varden
It was the middle of February, and I was in Jasper Alberta for a ski trip, taking a break from the slopes I went down to the Athabasca river(which was open with barely any ice floating on it). I tried fly fishing for about 20 minutes. no luck. But than I switched to a Rainbow Trout Syclops on my spinning rod, on the second cast I was hooked up. I had a 4lb bull trout on, 3 minutes later it was landed! An awesome day!

But this isn't the only fish Ive caught with the syclops, its my favorite spoon to use in any situation and I totally recommend it!
Reviewer:
Christine Cunningham (Kenai Peninsula, Alaska)
Fish Caught:
Grayling - Pike, Northern - Salmon, Atlantic - Salmon, Coho (silver) - Salmon, Kokanee - Salmon, Pink - Trout, Dolly Varden - Trout, Lake - Trout, Rainbow - Salmon, Chinook (king)
In the annual Soldotna Trustworthy Ice Fishing Derby, which covers the lakes on Alaska's Kenai Peninsula, I caught a "Strait Flush" (char, kokanee, lake trout, rainbow and pike) using the #1 Mepps Syclops in Hot Orange. It also caught the largest grayling on the #1. In fact, it was the exact same lure! (I never lost it) I can't say enough about how great this lure is for ice fishing although I catch fish all summer on it as well.


Reviewer:
Matthew (Toronto, Ontario, Ontario, Canada)
Fish Caught:
Musky - Pike, Northern
I have had great success with your Syclops lures, particularly in the hot orange colour.

I was trolling with some friends in mid-May and we landed a muskie just under 12 lbs on a #3 hot orange Syclops.

This is my first muskie and I have caught many pike on this lure. I have quite a few lures that have never seen a fish (some non-Mepps spoons among them), but for sure I have landed more fish on a Syclops than any other. It is my go-to lure. Since the hot orange is painted rather than plated I need to replace it now and then due to all the teeth marks!

I find that I can cast them very far as well making them good for both trolling and casting.

Thanks and keep up the great work.
Reviewer:
Niko Dimuzio (Fox River,Algonquin , Illinois)
Fish Caught:
Carp
Man, today was great fishing at the Fox River. While using the Syclops, bam a giant carp hit me so hard I wound up cacthing two.
Reviewer:
Mike Marquardt (Hand Lake, Pine River, Minnesota)
Fish Caught:
Pike, Northern
One of my cousin's buddies came up to our cabin for a weekend just to try to catch some fish. We have been fishing this lake for years and never caught a fish as big as the one he caught. A 42 inch northern. Ever since then, my cousin and I have used the same lure, a green/ orange #3 Mepps Syclops. We had never even heard of the lure before, but, now it is our favorite to fan cast the weed lines!!
Reviewer:
The Snook Whisperer (All Over My Local Inshore Area In Clearwater, Florida)
Fish Caught:
Mackerel - Redfish - Trout, Sea/Speckled - Snook
I never even heard of Mepps until a friend of mine showed me his collection of Saltwater Syclops'. We took off one morning/afternoon and launched the boat at the local boat ramp down the street hitting a few of the bars/flats near the house and caught multiple keeper size Speckled Sea Trout! After about an hour of non-stop trout action, we decided to motor up to the backside of Clearwater to a popular night time snook hole of mine to see what we could find on the flat out back the hole and we were catching keeper spanny macks....in the intracoastal waterway!

Well after all that good fishing I decided I had to try the snook hole that night so we headed home ate some macks and caught a few Zzzz's before doing some nightime wading at the hole....sho nuff the snook were loving the Saltwater Syclops!

I will be a lifelong believer and customer now....THANKS Mepps!
Reviewer:
Gary Gore (Saginaw River, Michigan)
Fish Caught:
Bass, Smallmouth - Pike, Northern
I can't say enough good things about this lure! If you want explosive action with anything in the water, USE THIS LURE! I have caught countless large Pike on this along with 16+ smallmouth casting it up onto the ban edge, with a slow to medium retreive. I always carry an extra one or two just in case. Good Luck!
Reviewer:
Jim Mumley (Colchester Pond Colchester, Vermont)
Fish Caught:
Pike, Northern
It was my first cast of the day; I tied on a Syclops # 3 lure in the Hot Firetiger pattern. I barely had time to close the bail on my reel when a 25" 7lb. northern hit . I caught about 6-7 pike that day but that first one was the biggest of the day.
Reviewer:
Gilbert Arroyo (El Paso, Texas)
Fish Caught:
Redfish
Nothing grabs the attention of a redfish quite like the shine of a Mepps Saltwater Syclops! I've tried other spoons, and spinners, even live bait but nothing works like Mepps!
Reviewer:
Ryan Roddick (Nattawasaga River, Ontario, Canada)
Fish Caught:
Trout, Rainbow
I was fishing the Nattawasaga River for rainbows and my grandpa tied on a #1 Syclops and he reeled in a pike on the 3rd cast so I switched to a #3 Syclops and I casted it 4 times then I reeled in and this fish was putting up a very good fight I thought it had to be a nice big piker but it was a rainbow trout and a very good first rainbow too. So once again Mepps keep on making awesome lures. And, what Red Green always says " keep your stick on the ice!"
Reviewer:
Ryan Roddick (Talbot River, Ontario, Canada)
Fish Caught:
Pike, Northern
I was fishing for pike in the Talbot River near my house and I wasn't getting a thing so I tied on a #3 Mepps Syclops. Bam! I reeled in a 3-4 pound pike- the Mepps Syclops is now my favourtie lure . Thanks Mepps!
Reviewer:
Marc Wisniewski (Greenfield, Wisconsin)
Fish Caught:
Pike, Northern - Walleye
The president of our company was talked-into going with his buddies on a fishing trip to Canada. He doesn't fish, so he asked me to get him ready for this trip. I built him a rod, picked out a reel, and took him to Fleet Farm for a shopping spree. His buddies preached , "Five O Diamonds, that's all you need". So, I said, "sure get a couple five o diamonds, but also get a bunch of these Syclops". So we picked out some different sizes and colors. I told him, "trust me, you will out-fish your 'expert fishermen' buddies with these".

Long story short. My boss, who doesn't fish, kicked their butts and clearly out fished all seven of them. The winning edge, a #2 monkey-colored Syclops. They were offering big money to buy one off him. He came back gloating to his buddies. I look like a genius and Mepps gets the best advertising you can ever buy! Word of mouth!

They caught a lot of Pike, but his big fish of the trip was a 27" walleye that also took the #2 Syclops. For a guy that never fished, he was pretty happy.
Reviewer:
Jeff Regan (Bainbridge Island, Washington)
Fish Caught:
Pike, Northern - Salmon, Chinook (king)
This is one of the best lures I've ever used.

It was the single most effective lure we used on a pike fishing trip to Canada.

Here in the Puget Sound, it's the most productive spoon for catching salmon.

Jeff Regan
Bainbridge Island, WA
Reviewer:
David Jeon (Princeton, New Jersey)
Fish Caught:
Crappie (Black)
This is one of my favorite crappie lures of all time. The work best jigged underneath structure, or swam slowly and enticingly across structure and brush. My favorite colors are hot tiger, hot chartreuse, silver, gold, and monkey. But the number one producer I think is hot chartreuse or gold.
Write a product testimonial and share your fishing experiences with other customers.
Fish Species
Size #00
| | | |
| --- | --- | --- |
| | | |
| Bluegill / Sunfish / Bream | Crappie | Perch |
| | | |
| Rock Bass / Goggle-Eye | White Bass | |
Sizes #00 and #0
| | | |
| --- | --- | --- |
| | | |
| Arctic Grayling | Brook Trout | Cutthroat Trout |
| | | |
| Dolly Varden Trout | Kokanee (Landlocked Sockeye) Salmon | |
Sizes #0 and #1
| | | |
| --- | --- | --- |
| | | |
| Arctic Char | Bonefish | Carp |
| | | |
| Rainbow Trout / Palomino Trout | Redfish / Red (Puppy) Drum | Sauger |
| | | |
| Snook | Speckled (Sea) Trout / Weakfish | Steelhead |
Sizes #1 and #2
| | | |
| --- | --- | --- |
| | | |
| Barracuda | Bluefish | Brown Trout |
| | | |
| Chum (Dog) Salmon | Humpback (Pink) Salmon | Ouananiche (Landlocked Atlantic) Salmon |
| | | |
| Pickerel | Smallmouth Bass | Sockeye (Red) Salmon |
| | | |
| Walleye | | |
Sizes #2 and #3
| | | |
| --- | --- | --- |
| | | |
| Atlantic Salmon | Bowfin / Dogfish | Cobia |
| | | |
| Coho (Silver) Salmon | Lake Trout | Largemouth Bass |
| | | |
| Mackerel | | |
Syclops in Size #3
| | | |
| --- | --- | --- |
| | | |
| Channel Catfish | Chinook (King) Salmon | Northern Pike |
| | | |
| Striped Bass / Rockfish | Tarpon | Tiger Muskellunge |
Saltwater Syclops in Size #3
| | | |
| --- | --- | --- |
| | | |
| Chinook (King) Salmon | Striped Bass / Rockfish | Tarpon |
Saltwater Syclops in Sizes #0 and #1
| | | |
| --- | --- | --- |
| | | |
| Bonefish | Redfish / Red (Puppy) Drum | Snook |
| | | |
| Speckled (Sea) Trout / Weakfish | | |
Saltwater Syclops in Sizes #1 and #2
| | | |
| --- | --- | --- |
| | | |
| Bluefish | Chum (Dog) Salmon | Humpback (Pink) Salmon |
| | | |
| Sockeye (Red) Salmon | Barracuda | |
Saltwater Syclops in Sizes #2 and #3
Cobia
Atlantic Salmon
Coho (Silver) Salmon
Mackerel
Links & More
Catalog PDF pages
Articles
Brochures