Mepps Spinflex Perfect For Walleye Smallmouth Fishermen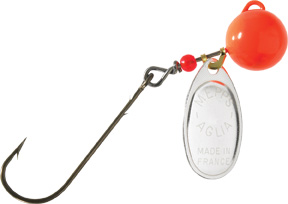 Fishing is easy and productive with the Mepps SpinFlex. The secret is in the articulating hook that pivots to avoid hang-ups on wood, rocks or rip-rap. All SpinFlex also feature an environmentally friendly, perfectly round solid brass head for precise balance throughout the retrieve. Computer age powder coating gives every SpinFlex a diamond hard, chip resistant finish.
Count the SpinFlex down to fish specific depths. It can be retrieved just below the surface or right along the bottom. The SpinFlex just could be Mepps most versatile lure. It can be cast, trolled, jigged, drifted, or dragged.
The SpinFlex is perfect for many species of fish including walleye, bass, trout, pike, salmon and panfish. Tip the SpinFlex with a Mister Twister® tail, pork trailer or live bait. For great fishing action anytime tie on a Mepps SpinFlex.
For additional information contact:
Josh Schwartz
jschwartz@mepps.com
Phone: 715-623-7556