Free Spinner
$50.00
order earns FREE
Trolling Rig or
Crawler Harness
Spinner
Get Details
Shop Our Products
Buy our products online. Safe & secure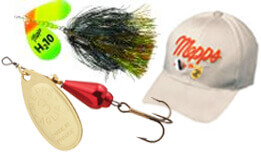 Clearance Outlet
Save lots of money on tons of items.
NEW in 2017
Musky Flashabou
Twice the flash and vibration!
Get Details
Lure Selection Guide
Popular lures to over 45 species of fish.
Mepps Master Catalog
Free Catalog
and
Order Form
Free: Monthly Specials and Limited Deals delivered to your inbox!
Fishing Articles
Our huge selection of fishing articles will have you fishing like a pro in no time!
"The
Mepps XD Plain Treble
is a great bait in small streams and from shore for just about any kind of trout, but bass and panfish also love these little spinners. Silver/Black and Gold/Black are my two favorite colors. Something I love about these is how slow you can fish them and the blade keeps moving. If you're a serious trout fisherman do yourself a favor and get some of these."
Bryon — Warren, Michigan
Testimonials
Have you ever wondered what your favorite Mepps lure looks and sounds like underwater? Check out our YouTube channel to see Mepps lures in action!