Free Double Blade Spinner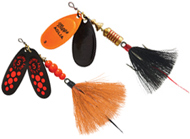 $45.00
order earns a
FREE Double Blade
Aglia or Black Fury
Get Details
Shop Our Products
Buy our products online. Safe & secure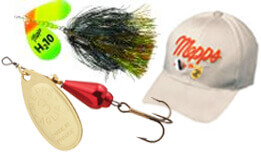 Clearance Outlet
Save lots of money on tons of items.
NEW in 2017
Musky Flashabou
Twice the flash and vibration!
Get Details
Lure Selection Guide
Popular lures to over 45 species of fish.
Mepps Master Catalog
Free Catalog
and
Order Form
Free: Monthly Specials and Limited Deals delivered to your inbox!
Fishing Articles
Our huge selection of fishing articles will have you fishing like a pro in no time!
"The #0
Aglia Marabou
with the copper blade and brown body is dynamite for brook trout during or right after rainstorms. I can't begin to describe how well this particular color combination works in that type of conditions. The Marabou tail works wonders, I think it pulsates and attracts fish way more than a squirrel tail. This is the best bait Mepps has come out with in a long long time."
Derrick Broeckel — Antigo, Wisconsin
Testimonials
Have you ever wondered what your favorite Mepps lure looks and sounds like underwater? Check out our YouTube channel to see Mepps lures in action!