Great Gift Ideas!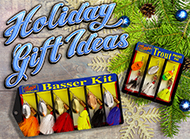 20% OFF
all Mepps
3 & 6 Lure Kits
for the Holidays
Get Details
Shop Our Products
Buy our products online. Safe & secure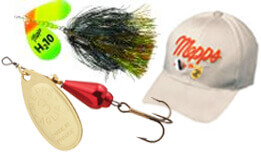 Clearance Outlet
Save lots of money on tons of items.
NEW in 2016
Aglia-e
Takes advantage of fish's
fixation on eggs!
Get Details
Lure Selection Guide
Popular lures to over 45 species of fish.
Mepps Master Catalog
Free Catalog
and
Order Form
Free: Monthly Specials and Limited Deals delivered to your inbox!
Fishing Articles
Our huge selection of fishing articles will have you fishing like a pro in no time!
"I use the
Aglia Dressed Treble
#3 squirrel tail / silver blade, along with some custom made Mepps. I always have at least one pole with it on, sometimes 3 poles. I outfish everyone with this lure alone."
Frank — Waterford, Michigan
Testimonials
Have you ever wondered what your favorite Mepps lure looks and sounds like underwater? Check out our YouTube channel to see Mepps lures in action!