Free Double Blade Spinner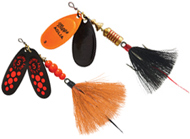 $45.00
order earns a
FREE Double Blade
Aglia or Black Fury
Get Details
Shop Our Products
Buy our products online. Safe & secure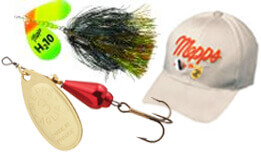 Clearance Outlet
Save lots of money on tons of items.
NEW in 2017
Musky Flashabou
Twice the flash and vibration!
Get Details
Lure Selection Guide
Popular lures to over 45 species of fish.
Mepps Master Catalog
Free Catalog
and
Order Form
Free: Monthly Specials and Limited Deals delivered to your inbox!
Fishing Articles
Our huge selection of fishing articles will have you fishing like a pro in no time!
"The
Mepps Black Fury
Size #2 in traditional dress with yellow, brown, and red colored tail is the only lure I have ever fished, that I can remember as a little boy fishing where I caught 4 bass between 1 and 2 pounds apiece on every single cast from the first to the fourth and on the 5th I either hooked, snagged a large fish because the lure broke off: that's the best experience I ever had with an artificial lure period!"
Jeffrey — Pfafftown, North Carolina
Testimonials
Have you ever wondered what your favorite Mepps lure looks and sounds like underwater? Check out our YouTube channel to see Mepps lures in action!