Free Spinner
$50.00
order earns FREE
Trolling Rig or
Crawler Harness
Spinner
Get Details
Shop Our Products
Buy our products online. Safe & secure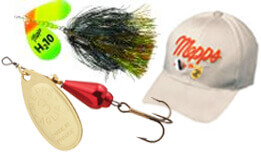 Clearance Outlet
Save lots of money on tons of items.
NEW in 2017
Musky Flashabou
Twice the flash and vibration!
Get Details
Lure Selection Guide
Popular lures to over 45 species of fish.
Mepps Master Catalog
Free Catalog
and
Order Form
Free: Monthly Specials and Limited Deals delivered to your inbox!
Fishing Articles
Our huge selection of fishing articles will have you fishing like a pro in no time!
"The
Aglia Dressed Treble
lures are by far my favorite type of lure. I have caught many types of fish using these. I have caught musky, Large and smallmouth bass, rainbow and brook trout all on a gold #3 brown dressed."
Matt — Charlotte, Michigan
Testimonials
Have you ever wondered what your favorite Mepps lure looks and sounds like underwater? Check out our YouTube channel to see Mepps lures in action!