Musky Killer Details
---

Description
Mepps bucktails and marabous were voted America's favorite musky bucktail by the readers of Musky Hunter magazine.
There isn't a lot that can be said about the Mepps Musky Killer that hasn't already been said by musky fishermen world-wide. This is because the Mepps Musky Killer has caught more record musky than any other musky bucktail.
Sunny fall days will provide calm afternoon water, and are excellent times to fish a Musky Killer in the cabbage weeds. It's here the muskys go to warm themselves. They also take advantage of the shadows to stalk their prey. Because of the similarity of weather conditions, this is also an excellent place to find muskys in the early summer.
Musky season opens early on many shallow northern musky lakes, and fishing these cold waters can be the key to early season action. A slow presentation is needed, and the Musky Killer's blade, like the blade on all Mepps spinners, begins spinning at even the slowest retrieve. Fish shallow bays and large flats of weeds early in the season with a Mepps Musky Killer.
Tandem Musky Killer
The Mepps Tandem Musky Killer features a extra heavy-duty super sharp premium 5/0 hook and heavy-duty 3/0 trailer hook. This is the perfect lure for trophy musky and monster northern pike when a larger profile lure is needed to match the size of the the forage.
When fishing warm water, use a high speed retrieve to "burn" a Tandem Musky Killer just under the surface. The added bucktail helps create more movement and size "bulge," while the double hook configuration generates better hooking percentages and catches those short biters.
All Tandem Musky Killers also feature a 1/2-ounce lead weight. With this added weight they can run as deep as eight feet. This makes the Tandem Musky Killer an excellent spinner for fishing weed lines bordering deep water... the mid-summer haunts of big muskies.
Testimonials
Reviewer:
Mary Murphy (Lake Chataqua, New York)
Fish Caught:
Musky
Hi! I LOVE fishing, but, I have not fished in years (married-husband doesn't like to fish!) I ALWAYS wanted to catch a Musky. We were invited to my in-laws house on Lake Chataqua-NY. So, I went to Dick's Sporting Goods where I picked out my lures,------thought and said to the men helping me,"Musky Killer, its pretty and looks like a fur coat on the end!" They laughed and said it was funny how I was picking out my lures by look. Anyway, we got to the lake and I started with a pretty silver lure. After a while when that didn't get any attention, I reeled it in and said, " Ok that's it, time to break out the "Musky Killer". After 2 try's-the Musky hit on the third! I thought that I had snagged some seaweed but felt a pull to the right and something large on my line. When I saw the Musky as I was reeling it in closer to the boat I said, " I think I caught a Musky!" Everyone on the boat didn't believe me until they saw it! The Musky I caught and released was 32inches. My Dad loved fishing, flying, and golf. He would always show-off the Musky he caught at Lake Chataqua when he was younger. When he was dying from cancer, I told him I would get a hole in one or try to catch a Musky for him. Well, 1st I thank you God! I also want to thank Mepps for making pretty lures that work! Thank you also to my in-laws and Family for use of their boat, and especially my father-in-law, Gordy, who was our fishing guide that day, and took the hook out of the Musky's mouth for me!

Reviewer:
Ryan (Kewaskum, Wisconsin)
Fish Caught:
Bass, Largemouth - Musky - Pike, Northern
It brings a tear to my eye every time I think about this lure. The white blade and white tail Musky Killer has produced more fish for me than any other lure. I caught a 49 inch muskie last summer with this lure and countless northern and smaller muskie. It is a feeding frenzy every time it is thrown in the water. You can run it as shallow as you want and even have the blade create a wake on the surface. Perfect for shallow casting over weeds for monster fish. If you throw this lure you will not be disappointed. Great job on the lure, Mepps.
Reviewer:
Cole Remington (South Lake, Big Hook Camps, Ontario, Canada)
Fish Caught:
Pike, Northern
Using an old, beat-up, Musky Killer I caught a 39" northern pike breaking my old record (27"). Thank you for the time and effort put into your lures.

Good fishing,
Cole Remington
Reviewer:
Steven Young (Wabaskang Lake Ontario Canada, Iowa)
Fish Caught:
Pike, Northern
Went to Canada one year with a group of guys that had been going there for years. I didn't have probably the best equipment as I didn't know what I was getting into, but I did bring with me a handful of Mepps Musky Killers in number 5 single hook. I took a little abuse from the guys as they all had a lot better equipement and bigger stuff. By the end of the week I had boated a lot of the big fish. Mepps is my absolute pick, I love throwing the Tandems in the Musky Killers. Thanks for making such a good product and thanks for making my Canada trip one to remember. Did I mention I could carry all five in a small zip lock bag. Thanks, Steve
Reviewer:
Mark Cox (Cuyahoga River, Akron, Ohio)
Fish Caught:
Pike, Northern
Where I normally fish is 2 to 5 feet deep with a slow current and a ton of logs and submerged debris. Last summer I decided to try a Mepps Musky Killer in the river. I was at first afraid that I would get a ton of snags with a heavy spinner. The Mepps Musky Killer worked SUPER! I could keep it running just under the surface. One afternoon my friend and I caught 11 pike on Musky Killers. Most over 30 inches (which are very nice for Ohio). I also caught a 36 inch pike and bunch of others this summer. Check them out in the Photo Section on this web site or see the video I posted on the Mepps Facebook page. CHOMP!!!!!
Reviewer:
Jason Allen (Endicott, New York)
Fish Caught:
Musky
If I had one lure to use to catch a big Musky, I would choose the Mepps Musky Killer with gold blade and yellow- enough said!
Reviewer:
Alex (Big Stone Lake, Dog Lake, Three Lakes, Wisconsin)
Fish Caught:
Musky - Pike, Northern
First cast had a 20" northern follow it right to the dock. I could have reached down and grabbed it caught that and a 30" musky and a 40" musky all on a medium speed retrieve.
Reviewer:
Nicholas Cuzio (Stony Creek,Branford, Connecticut)
Fish Caught:
Bass, Striped
While on a pier one evening plugging, trying everything in my tackle box(I always use Mepps spinners in freshwater with much success), I pulled out a #5 Musky spinner with dressed treble which I felt confident with. The third cast had a hard hit, fish tore off 20 yards of line, I fought the fish for 10 minutes, to my surprise when I saw it was a striper 33" long. Great night.

Reviewer:
Don Blakeley (Montevallo, Alabama)
Fish Caught:
Pike, Northern
Several years ago, I was fishing on the French River in Ontario. My dad and I both were using a Musky Killer right at nightfall. I had mine within 2 feet of the boat and a northern hit my bait so hard it splashed about a gallon of water on me. About half the fish came in the boat too (small cedar strip boat. It knocked me off my seat, slimed me and slid back into the blackness, of course the pike shook itself loose from my bait.

In all my life, I'll never forget that one good hit.(Hopefully). We caught other fish, but that one sticks out in my mind. And yes, I saw enough of the fish to know it wasn't a musky. That bad girl was huge!
Reviewer:
Tom (Milwaukee River, Wisconsin)
Fish Caught:
Pike, Northern
Amazing lure!!! It not only catches musky it nails trophy pike!
Reviewer:
Lucas (Lac Vieux Desert, Wisconsin)
Fish Caught:
Musky
Took our annual fishing vacation this summer with the hopes of catching my first musky! We arrived Sunday night and by Monday night I had caught my first musky(41 inches)and I owe it all to my Mepps Muskey Killer!!!
Reviewer:
Mark D. (Clearwater Lake, Ontario, Canada)
Fish Caught:
Musky
Caught in the first hour of my fishing vacation - a 45" Musky on a Mepps Musky Killer. Caught a 36" Musky the next day.
Reviewer:
BLAIR HELLER (Lake Of The Woods, Ontario, Canada)
Fish Caught:
Bass, Largemouth - Musky - Pike, Northern
I have been using the 3/4 oz #5 red/white blade with the grey tail for 20 years and it catches more Northerns & muskys than anything else. They love it! Just ordered 10 more for my buddies as last year made a believer out of them. They were catching nothing so I threw them one and instantly they were on fish. I think its that bleeding tail look.
Reviewer:
Evan Cahill (Lake Champlain, Vermont)
Fish Caught:
Pike, Northern
I was was a little shy about putting on such a big spinner for pike but boy am I glad I did!! I caught five pike ranging from 8lbs to 15lbs in one hour. You made a beliver out of me now I need a bigger takle box to hold all the lures I just bought!

Thank you so much for this product I will never forget this day of fishing.

Evan Cahill
North Hero, VT
Reviewer:
James Taylor (Ajax, Canada)
Fish Caught:
Musky
I spent a week fishing on a medium size lake near North Bay, Ontario. The owner of the resort took me out fishing for Muskie four evenings during the week. He caught 3 large Muskie and we saw several more. The largest he landed was 44" and one that he had on for a couple of minutes before it released the lure had to be greater than 50". The thing that I noticed is that he used one lure and never changed. That lure was a Mepps #7 Musky Marabou with a red bucktail. Guess what I will be using from now on?
Write a product testimonial and share your fishing experiences with other customers.
Fish Species
Dressed
| | | |
| --- | --- | --- |
| | | |
| Northern Pike | Striped Bass / Rockfish | Tiger Muskellunge |
Dressed & Tandem

Muskellunge
Links & More
Catalog PDF pages
Articles
Brochures
Audio
The image you see behind the lure is a picture of the actual sound waves created by that particular lure.
To hear how your Mepps spinner sounds as it's being pulled through the water place your cursor over the lure photo.
Aglia #5 (Musky Killer)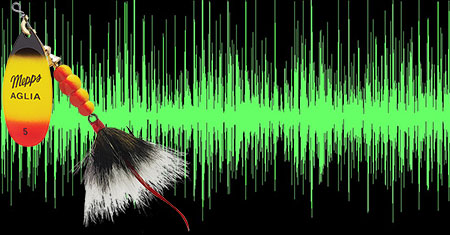 For years, the #5 French blade was the largest blade in the Mepps Aglia series. Today, the Mepps Magnum Musky Killer features a #7 Aglia blade. Listening to these two blades under water is like watching a defensive lineman running along side of an offensive lineman. The sound of the #5 Aglia blade is steady and deep with a rapid repetitive thump. The Magnum Musky Killer blade sounds similar, but, the thump is deeper and slower. Both sound like a slow moving locomotive, and both are very easy to hear underwater.