Giant Killer Sassy Shad Details
---

Description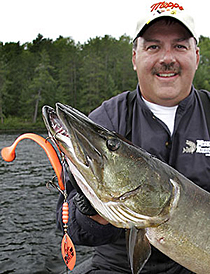 Steve Heiting, editor of Musky Hunter magazine is an excellent musky fisherman. As a member of the Mepps Field Staff, Steve was very influential in the design of the Giant Killer Sassy Shad.
"I really like this lure, Steve comments. It's a bucktail and swimbait in one lure. To put it simply... This lure is hot!"
All Mepps Giant Killer Sassy Shads feature a. . .
Rugged stainless steel shaft for maximum strength and durability.
Solid brass blade and body ensures perfect balance and performance right out of the box.
High-speed free-spinning clevis starts the blade spinning when it hits the water... continues spinning at all retrieve speeds.
Heavy-duty split ring limits the amount of force big fish can apply to the bait... also assures easy tail changes.
Dual hook assembly with extra-strong, razor-sharp 3/0 treble hooks for increased hooking and landing percentages.
Genuine Mister Twister® 6" Sassy Shad®, an exceptionally tough plastic tail that maintains a soft and natural texture.
Testimonials
Reviewer:
Dennis Newquist (Lost Land Lake & Teal Lake , Wisconsin)
Fish Caught:
Musky
I love fishing for muskies with bucktails. I had been reading about a trend in musky fishing - soft body lures. When I went to my favorite fishing store and saw the Mepps Giant Killer Sassy Shad, I knew that this lure had to work. The first day I used it, I hooked a 38" musky on Lost Land Lake in a spot that I have never even had a bite!
My friends on our trip decided to purchase a couple Giant Killer Sassy Shads. The next day out, my friend, Rick, was using the gold blade version. He got a knot in his reel and as he was fixing it with his lure dangling about three feet above the water, a very nice northern jumped out of the water to get his lure but missed it!
On the last day of our trip, I had to go back and fish the spot where I caught the musky, still using my Giant Killer Sassy Shad. I had another nice musky on but I lost this one.
This year when we return, I already know what lure will be on when we hit the same spot as the year before - the Mepps Giant Killer Sassy Shad!
Write a product testimonial and share your fishing experiences with other customers.
Fish Species
Size #3
| | | |
| --- | --- | --- |
| | | |
| Muskellunge | Northern Pike | Tiger Muskellunge |
Links & More
Catalog PDF pages
Articles