XD
View all XD to quickly see all choices. This is a great way to easily order different combinations.
Get Free Shipping. Learn more.
XD Details
---

Description

If you fish deep lakes, river pools or fast water you owe it to yourself to try the Mepps® XD® (Xtra Deep). Mepps didn't invent the shaft-through-the-blade spinner, we perfected it. Every XD features a precision, solid brass fulcrum bead between the blade and body allowing the blade to spin at any retrieve speed. It also allows the blade to spin as the lure drops providing additional attraction. No other shaft-through-the-blade spinner offers this feature. Mepps has always used strike attractors, a splash of color that enhances the lure's visibility. For each XD we selected either a bright red or fluorescent bead tucked securely into the back of the body. All XD silver blades and bodies are plated with genuine silver creating a bright white flash that's easily seen underwater. Some blades and bodies are platium (plaý-tee-um) plated. Platium is a natural element that has a remarkable resistance to corrosion. Gold blades and bodies are polished brass. Painted blades feature a Mepps chip-resistant proprietary blend of acrylic and epoxy finishes. Because it's assembled with the best components possible, the XD holds up well when fishing rocks, stumps and rip-rap where trophy fish hang out. As if all this isn't enough, the XD runs deeper - size for size - than any other lure in its class.
Testimonials
Reviewer:
Kevin (Culver Lake Branchville, New Jersey)
Fish Caught:
Bass, Largemouth - Bass, Rock - Bass, Smallmouth - Bass, Striped - Bluegill (Bream, Brim) - Catfish, Channel - Crappie (Black) - Crappie (White) - Perch, White - Perch, Yellow - Pickerel - Barracuda
The dressed XD size 3 with white (silver blade) and yellow (gold blade) is a killer for the hybrids. I tend to troll with these lures and it doesn't take long. It also attracts all the other fish in the lake. If it wasn't for the pickerel I wouldn't need to order so many of these :)
Reviewer:
Puck ()
Fish Caught:
Trout, Rainbow
The XD #0 Gold blade/Gold body dressed has to be one of the best lures money can buy. In one day, I caught 12 rainbow trout until my knot snapped after I got the fish in. I really love it. Except if you're not careful you can bend the shaft, but won't damage it at all. Keep up the good work Mepps.

Reviewer:
Darius Fagan (Ohinemuri River, Paeroa NZ, New Zealand)
Fish Caught:
Trout, Brown - Trout, Rainbow
The MEPPS XD lures are deadly on every New Zealand river I have tried them on as they are the perfect wieght and size for getting to the fish in various water types. On the Ohinemuri river I caught a nice 4lb brown trout which I saw chase the rainbow trout blade all the way from the opposite bank it was so desperate to get at the lure.
Reviewer:
Fisherman Bob (Melvern River Pond, Kansas)
Fish Caught:
Bluegill (Bream, Brim)
I have been using Mepps spinners for as long as I have been fishing. If I had to go into the wilderness and bring just one lure to catch fish to survive on it would undoubtably be a Mepps spinner, and my first choice would be a Mepps XD spinner. The size 0 XD dressed is the best Bluegill lure ever and catches the BIGGEST bluegill of any lure I have tried. I've also caught some of my biggest trout and crappie on the XD spinner. I NEVER leave home without a good selection of XD's.
Reviewer:
Stephan Peters (Cascade Quarry, Pennsylvania)
Fish Caught:
Bluegill (Bream, Brim) - Trout, Rainbow
It was one of those days where no one was catching anything. I was the only spin-caster at the quarry, everyone else was using bait. I usually use French spinners. My favorite is the discontinued Mepps Combo Killer but you can still make one from a Comet Minnow.
I don't usually use spinners with sonic blades, but I had an XD dressed I got in a Mepps discontinued grab bag in my tackle. I got EXCELLENT response! I was so thrilled with the XD I went straight to my usual sporting goods store to get a couple more.
They didn't have Mepps XD so I got a couple Panther Martins but I was very disappointed with the quality of the paint and the blade, and the dressing was actually glued into the blister pack so I lost half of it when I opened the pack.
I will always insist on Mepps XD from now on when I'm purchasing sonic spinners.
The only problem with the XD is bluegills really like them too.
Reviewer:
Bryon (Warren, Michigan)
Fish Caught:
Trout, Brook - Trout, Brown - Trout, Rainbow
I like using the number 0 XD when I need a bit of extra weight and need a spinner to run a little deeper than the Ultra Lite Series. A great bait in small streams and from shore for just about any kind of trout, but bass and panfish also love these little spinners. Silver/Black and Gold/Black are my two favorite colors. Something I love about these is how slow you can fish them and the blade keeps moving. If your a serious trout fisherman do yourself a favor and get some of these.
Reviewer:
Bryon (Warren, Michigan)
Fish Caught:
Trout, Rainbow
I always have size 1 XD's in my trout box. I love these in faster water because I can fish them very slow and keep them in holes a lot easier than the classic Mepps. Silver and Gold are good standbys but I also like the brown trout and rainbow trout colors. I also love the quality of this spinner, it's worlds better than other sonic spinners.
Reviewer:
Derrick Broeckel (Wisconsin Trout Streams, Wisconsin)
Fish Caught:
Trout, Brook - Trout, Brown
This is the best trout fishing lure Mepps has ever made!! It spins so easily in the water you can fish it extremely slow. The most versatile size for trout is definitely the #1 size. Its not too big for smaller fish but not too small for the bigger ones. I like the all silver XD in sunny weather and the black body with the gold blade when its cloudy. I like to jig this bait right in the middle of the cover for inactive trout. It is amazing to watch the blade when you jig this bait it spins on the fall and then spins when you pick up the bait. This drives inactive trout absolutely nuts. I have never seen inactive trout go crazy over anything like that retrieve they will strike your bait multiple times if they don't hook up right away. This bait is better than a Panther Martin because the hook is so much more durable, trust me I planted one in my face on accident. The bait also has a much better quality body than Panther Martins, the paint doesn't chip off and its brass so you don't end up like you do with a beaten up Panther Martin with a big old hunk of gray lead for a body when the paint comes off. Talk about unnatural. Thanks to the bead attractor you miss alot less fish than Panther Martin's, the fish really seem to zero in on that bead for some reason or another. I can honestly say this is my all time favorite Mepps bait.
Reviewer:
Bob Hayett (Clinton Reservoir, Kansas)
Fish Caught:
Bass, White - Bluegill (Bream, Brim) - Catfish, Channel - Crappie (White) - Walleye
I have caught different species of fish on Mepps XD spinners. They are my absolute go-to lure whenever and wherever I fish.
Reviewer:
Robert Hayett (Lenexa, Kansas)
Fish Caught:
Bass, Largemouth - Walleye
I have been using Mepps spinners for over 25 years. My favorite fish are panfish (crappie, bluegill, white bass, redear sunfish, etc.) although I have caught my share of walleye and bass. I have found the XD spinners in size 0 dressed single or treble hook to be among the most deadly lures for large panfish. The brightly colored ones (firetiger) are particularly awesome. I basically fish them slow and steady, trying to keep the lure spinning just off the bottom. If I know the body of water I'm fishing has BIG panfish this is my go-to lure. In addition to the panfish I almost always catch a nice largemouth, walleye, or even channel catfish on these spinners. I don't ever leave home without them when I fish.
Reviewer:
TGIF Outfitters (Onalaska, Wisconsin)
Fish Caught:
Bass, Largemouth
The XD Dressed Treble in 1/4 oz has caught more smallmouth bass fishing with the mighty current of the Mississippi River than any other spinner bait of its kind by our guides! The blade always spins even going downstream with the fast current. Being ranked in the top ten guides in the USA requires using lures that work ... this is one of our secret weapons... Bob Bott
Write a product testimonial and share your fishing experiences with other customers.
Fish Species
Sizes #0 and #1 - Plain & Dressed
| | | |
| --- | --- | --- |
| | | |
| Bluegill / Sunfish / Bream | Crappie | Perch |
| | | |
| Rock Bass / Goggle-Eye | White Bass | |
Sizes #0, #1 and #2 - Plain & Dressed
| | | |
| --- | --- | --- |
| | | |
| Arctic Grayling | Brook Trout | Cutthroat Trout |
| | | |
| Dolly Varden Trout | | |
Sizes #1, #2 and #3 - Plain
| | | |
| --- | --- | --- |
| | | |
| Carp | | |
Sizes #1, #2 and #3 - Plain & Dressed
| | | |
| --- | --- | --- |
| | | |
| Arctic Char | Rainbow Trout / Palomino Trout | Sauger |
| | | |
| Steelhead | | |
Sizes #2 and #3 - Plain & Dressed
| | | |
| --- | --- | --- |
| | | |
| Brown Trout | Pickerel | Smallmouth Bass |
| | | |
| Walleye | | |
Sizes #2 and #3 - Plain
| | | |
| --- | --- | --- |
| | | |
| Chum (Dog) Salmon | Humpback (Pink) Salmon | Ouananiche (Landlocked Atlantic) Salmon |
| | | |
| Sockeye (Red) Salmon | | |
Size #3 - Plain & Dressed
| | | |
| --- | --- | --- |
| | | |
| Bowfin / Dogfish | Lake Trout | Largemouth Bass |
Size #3 - Plain
| | |
| --- | --- |
| | |
| Atlantic Salmon | Coho (Silver) Salmon |
Links & More
Catalog PDF pages
ArticlesBrochures
Audio
The image you see behind the lure is a picture of the actual sound waves created by that particular lure.
To hear how your Mepps spinner sounds as it's being pulled through the water place your cursor over the lure photo.
XD #3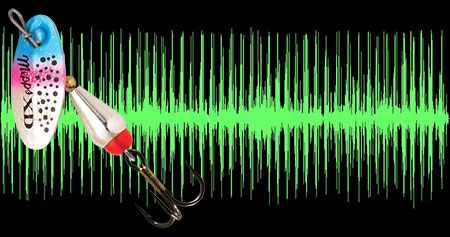 The Mepps XD produces a rapid "thump" at the beginning of the retrieve, but, that "thump" slows down to a steady beat as the XD's fulcrum bead evens out the rotation of the blade. This style spinner can be unusually loud depending on the speed of the retrieve, but, they run deep making the XD a favorite of trout anglers who fish fast, deep streams. Because the XD is a shaft-through-the-blade spinner, it's difficult to compare the sound of its blade with traditional Mepps in-line spinners. In-line spinners use a clevis to attach the blade to the spinner shaft, so a comparison would be apples-to-oranges.
Video