We recycle… but we don't want your old aluminum cans or plastic soda bottles. We do, however, want your squirrel tails. We need them to create hand-tied dressed hooks that do a great job catching fish. We know this for a fact because, here at Mepps, we've been recycling squirrel tails for about a half a century, and we recycle more of them than anyone else. This makes us some kind of recycling pioneer and we're proud of it.
We've tried hundreds of other materials, both natural and synthetic and nothing else works as well. Todd Sheldon discovered this in the early 1960's. While fishing the Wolf River with Mepps spinners, he caught his limit of trout and was heading back to his car when he met a boy who also had limited out fishing with Mepps. But, all of the boy's trout were larger than Todd's. This is not something easily accepted by any fisherman.
Todd noticed the Mepps spinner attached to the boy's line had a tuft of squirrel tail tied to the hook so he began experimenting with dressed hooks. Bear hair was tried as well as fox, coyote, badger, skunk, deer, even Angus cow. But the only two tails that provided the pulsating action Todd was looking for were squirrel tails and buck tails.
Squirrel tail quickly became the dressing of choice for Mepps trout spinners, while larger spinners for trophy musky, pike and bass were dressed with bucktail. It wasn't long before Mepps Bucktails had caught more trophy musky and northern pike than any other lure in the world. We have been recycling squirrel and deer tails ever since.
"Squirrel Tails Wanted" reads the large carved wooden sign on Wisconsin's highway 45 north in Antigo. The sign amuses some folks, but it intrigues others so much they stop to find out what we're all about. This is fine with us. We welcome inquisitive visitors and offer weekday tours. Our favorite visitors are hunters who stop by with tails to sell.
While we buy squirrel tails from individual hunters, almost all of our deer tails come from fur buyers or meat processors.
Processing both squirrel and buck tails is a lot of work. Upon arrival every buck tail must be trimmed to remove any body hair. Squirrel tails seldom need trimming, but they do need to be sorted and graded. All of the tails, however, need to be washed, not once, but several times. After drying, some are left natural while others are dyed brilliant hues. They are then carefully packaged and stored until needed. When needed, they are placed in the hands of a skilled fly tyer, where they become a Mepps dressed hook.
NOTE: Mepps is only interested in recycling tails taken from squirrels that have been harvested for the table. We do not advocate taking squirrels strictly for their tails. It is illegal to sell squirrel tails in the states of CA, ID, and OR.
Squirrel Tail Payment Information
Most folks that send us squirrel tails double their value by trading them for Mepps lures. All-in-all, not a bad deal. They get a great day afield and get to enjoy the stew, too. Then they take the part they used to throw away, offer it to us to recycle and we send them Mepps spinners in return. What a deal!
Shipping refunded on 50 tails or more. Ship by UPS or First Class mail only. No refund on insurance charges or service fees charged by independent mailing services.
For all good quality tails we pay the following:
Gray, Fox & Black Squirrel Tails

16 ¢ each — under 100
19 ¢ each — over 100
21 ¢ each — over 500
22 ¢ each — over 1000
Premium Tails

20 ¢ each — under 100
23 ¢ each — over 100
25 ¢ each — over 500
26 ¢ each — over 1000
Red Squirrel Tails (Hair at the base of the tail must be at least 1" long)

8 ¢ each — under 100
9 ¢ each — over 100
10 ¢ each — over 500
11 ¢ each — over 1000
Plus, you can double the value of your tails by exchanging them for Mepps lures. Call 800-237-9877 or e-mail mgolbach@mepps.com to place your order or get more details. No other discounts or special offers apply.
How to Submit Your Squirrel Tails
Please follow these instructions carefully:
Tails are best on squirrels taken after October 1st.
Do NOT remove the bone from the tail. Deboned and split tails have no value.
Salt the butt end of the tail generously. Use either dry salt or dip in a strong saltwater solution.
Be sure the tail is straight before drying. Tails that dry in a curled position cannot be used.
Keep tails away from flies. Best storage is in a freezer. Do not send tails that have been exposed to flies.
Do not put tails in a plastic bag for storage or shipment. They could heat up and spoil.
The best time to ship is during cold weather months (Jan, Feb, & Mar). Dried squirrel tails may be shipped anytime.
Put your name, address, phone number, e-mail address, and tail count inside each package.
Send your tails to:
Sheldons', Inc.
626 Center St.
Antigo, WI 54409-2496
Squirrel Tail T-shirts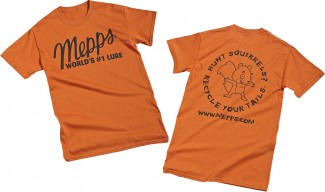 Help spread the word about squirrel tail recycling with our squirrel tail t-shirt!
Gildan 6-ounce 100% Ultra-Cotton preshrunk short sleeve Tees. Texas orange. Double needle stitching. Taped neck and shoulders. Front has a black Mepps logo. Back features Recycle, the Mepps squirrel, with the message, "Hunt Squirrels? Recycle Your Tails." Adult sizes only.
Squirrel Hunting Links
If a link is broken or you would like to see a site added, please don't hesitate to
let us know
.