2 Free Comet TRU-V Spinners!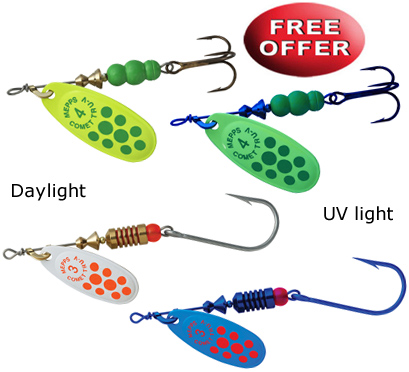 Order $55* worth of Mepps lures before March 31st and you'll receive 2 FREE Mepps Comet TRU-V spinners of your choice. Not only are these two lures FREE, but you get to choose their size, color and hook type when you checkout.
Our Comet TRU-V spinners are UV-enhanced beyond our traditional finishes. Every Mepps Comet TRU-V features a blade and body painted with colors that are proven fish catchers. Each blade also features a dot pattern that provides maximum contrast at any depth and under all fishing conditions. We call it TRU-V. You may not be able to see it, but the fish sure can.
* After all discounts are applied. Limit of one per order.
FREE Comet TRU-V Spinner offer good through March 31, 2014