About Mepps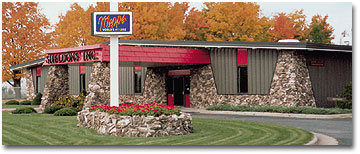 Sheldons', Inc., the world headquarters for Mepps, the world's #1 lure, is located at 626 Center St. on the north side of Antigo, Wisconsin. We're just off Highway 45 North. Visit us the next time you're in the area. Take a guided tour, and watch us hand-make the world's #1 lure. See all of the 4000-plus lures Mepps manufacturers. We also have an impressive trophy room you won't want to miss!
Mepps History
Mepps is a French acronym for Manufacturier D'Engins De Precision Pour Peches Sportives.
In English… Precision Equipment for Sport Fishing. Read More »
Plant Tours
MEPPS FACTORY TOURS ARE OPEN!
Stop by for a free Mepps factory tour at our Antigo, Wisconsin factory. Tours are available Monday through Thursday. Please be advised, our factory is closed on Fridays.
Tours last about 1/2 hour. Groups of 10 or more please call ahead.
January - April – Monday - Thursday – 10:15 a.m & 2 p.m.
May - December – Monday - Thursday – Mornings 9:15, 10:15, 11:15 / Afternoons 1:30, 2:30
Virtual Tour
Learn more about Mepps and take a virtual tour of the Antigo, Wisconsin Mepps plant as Made in Wisconsin visits. Learn about our squirrel tail recycling and fishing lure manufacturing processes.