About Mepps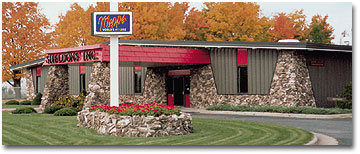 Sheldons', Inc., the world headquarters for Mepps, the world's #1 lure, is located at 626 Center St. on the north side of Antigo, Wisconsin. We're just off Highway 45 North. Visit us the next time you're in the area. Take a guided tour, and watch us hand-make the world's #1 lure. See all of the 4000-plus lures Mepps manufacturers. We also have an impressive trophy room you won't want to miss!
Mepps History
Mepps is a French acronym for Manufacturier D'Engins De Precision Pour Peches Sportives.
In English… Precision Equipment for Sport Fishing. Read More »
Plant Tours
MEPPS FACTORY TOURS ARE TEMPORARILY CLOSED.
Unfortunately we have decided to close tours for the time being due to COVID-19. The safety of our Mepps employees is of the utmost importance for us, so we have put safeguards in place to ensure that we can continue cranking out orders for all of our wonderful Mepps anglers.

We appreciate everyone's patience and understanding and are excited to get Factory Tours back open in the future. Tight lines everyone!
Tours last about 1/2 hour. Groups of 10 or more please call ahead.
January - April – Monday - Thursday – 10:15 a.m & 2 p.m.
May - December – Monday - Thursday – Mornings 9:15, 10:15, 11:15 / Afternoons 1:30, 2:30
Virtual Tour
Learn more about Mepps and take a virtual tour of the Antigo, Wisconsin Mepps plant as Made in Wisconsin visits. Learn about our squirrel tail recycling and fishing lure manufacturing processes.