Mepps Spinners – "Hand Assembled in the U.S.A."
You're going to be seeing this phrase on all Mepps packaging and in a lot of other places, too. You'll see it because we're proud of the fact that every Mepps in-line fishing spinner and spoon sold in the United States is hand assembled at our plant in Antigo, Wisconsin.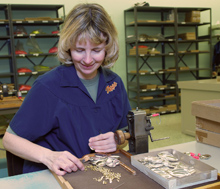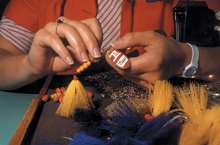 Not only do we hand assemble every one of our fishing lures, we also use the finest lure components you'll find anywhere. We know they're the best because we manufacture many of our own components at our plant in France. French engineer Andre Muelnart invented the Mepps fishing spinner in 1938 and Todd Sheldon bought Mepps France in the 1950's. Mepps lures sold in Europe still come from the French plant, but those sold in the United States are all hand assembled in Antigo. Many components used in the manufacture of our American lures also come from sources here in the United States. Regardless of where they come from, we only use the world's best parts when we make the "World's #1 Lure." Let's take a look at some of the individual components that we hand assemble for our spinners and spoons.
MEPPS IN-LINE SPINNERS – A CLOSER LOOK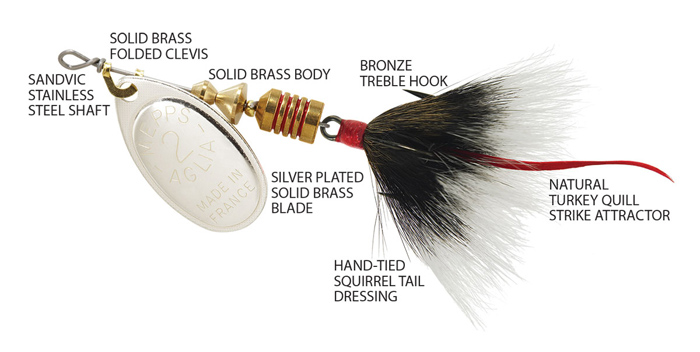 The Spinner Shaft
Let's talk about the shaft - the backbone of any in-line spinner. Most spinner manufacturers use a piece of galvanized wire as a shaft. All Mepps fishing spinners have a stainless steel shaft. But we don't stop there. The shaft is Sandvic stainless steel. If you're a woodworker you may have a hand saw made of Sandvic stainless steel. It's a Swedish stainless steel and it's among the best you can get whether you're building a hand saw or a fishing lure.
Blades and Bodies for Spinners and Spoons
The blades and bodies of our fishing spoons and spinners are made of solid brass and most Mepps hooks are made of bronze. Bronze is an excellent choice for fishing hooks because it is strong and resistance to corrosion. In fact, as you probably already know, bronze makes a great boat propeller. We use stainless steel hooks and split rings on our saltwater fishing lures because, in salt water, it is more corrosion resistant than bronze. We're sometimes asked why we don't use stainless steel hooks on all of our fishing lures. The answer is simple. Most Mepps lures are used in fresh water. If you hook a fish and your line breaks the hook remains in the fish. A bronze hook will eventually rust and fall out, not so for stainless steel. We don't want that hook to remain in the fish.
Spinner Beads – Not All Are Created Alike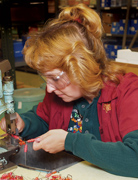 Spinners often come with a colorful plastic bead. The bead serves as a "strike attractor" for the fishing spinner. Most fishing lure manufacturers use a technique called injection molding to create the beads. It is by far the fastest and easiest technique, allowing hundreds of thousands of beads to be created in a very short time. At Mepps, we use a different technique. We turn our plastic beads on a lathe. Lathe-turned beads are much stronger than injection molded beads, and our beads won't chip or break when you're fishing heavy cover or rip-rap. Unfortunately, it is difficult to tell how spinner beads are made just by looking at them, but at Mepps, we take pride in every detail of every lure. We only use techniques that create fishing lures of the highest possible quality.
Edge-Glo Tubing for More Strike Attraction
Many of our treble hooks come with strike attractor tubes. This may look like just an ordinary piece of tubing slid onto the hook shaft, but there's a bit more to it than that. It's not just any plastic tube - it's "Edge-Glo" tubing. When your Mepps spinner is coming through the water and the sunlight hits the tube, the edge of the tube produces a subtle glow. It's just one more enticement to get that fish to hit. Mepps lures have been the "go-to" lure for three generations of fishermen for good reason.
The Clevis – Folded Solid Brass for In-Line Spinners That Last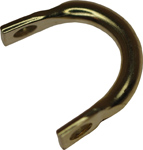 What's a clevis? If you fish spinners you should know this. Especially if you fish in-line spinners like the Mepps Aglia. A clevis is that little saddle-shaped component that attaches the spinner's blade to the shaft. Like beads, there are two ways to make a clevis. Again, the easiest way is to take a piece of wire, bend it into a "C," flatten each end and punch a small hole in the flattened ends. This is quick and easy, but what's to stop a small bent clevis from bending further? A small spinner with a bent clevis does not get along well with cover and cover is where fish hang out. Wedge a #1 or #2 spinner blade attached with a bent clevis between a couple of submerged branches and the flattened ends of a bent clevis will quickly press together. Once this happens your spinner is useless.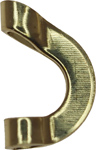 Mepps spinners use a unique folded solid brass clevis. This small piece of folded brass is so durable and so critical to the action of the spinner that it is patented. It's also a huge factor in the amazing longevity of Mepps lures. There are a lot of fishermen out there who own Mepps spinners from their grandfather's tackle box, and they still catch fish.
Brass Spinner Blades And Bodies - Not Lead
Mepps stopped using lead in its fishing lures long before government regulations made it a requirement. You may have noticed that along with 'Hand Made in the U.S.A.' there is still a lead warning on our packaging. This is because the brass that we use in our blades and bodies contains a very small amount of lead. The lead prevents brittleness and makes the brass malleable so it can be formed into spinner parts. The EPA lead level standard is 5%. The lead level in Mepps lure bodies (depending on the size) is 2 - 3¼%, well below the EPA standard. We apply a lead warning to our packaging only because California's Proposition 65 sets California's lead level at ½%, well below the EPA standards. Mepps blades are only .001% lead. Enough said.
70 Years of Research in Every Spinner Shape and Color

Quality components are critical to a lure's performance, but in-line spinners are effective because they produce a flash and vibration that are seen and heard by fish. After more than 70 years of color and sound research we'd like to think we have come up with a few good fish-catching lure shapes and colors.

Painting a lure is useless if the paint is gone after a day on the water. At Mepps, we use a propriety blend of epoxy and acrylic finishes that resist both chipping and fading. The finishes are also made in the U.S.A. and carefully airbrushed by our own employees in Antigo, WI. Mepps silver blades are plated with genuine silver. Silver reflects bright white and its flash can be seen for a long ways underwater. The hooks on the Mepps Black Fury are gold-plated because gold is also very reflective and it makes a great strike attractor on a dark lure.
What does all this mean? It means that trusting a carefully hand-assembled in the U.S.A. lure like Mepps means that you will catch more fish and get more enjoyment out of your day on the water. It means whether you fish from shore, a pier or from a boat you're going to be putting a bend in your rod more often. And after all, isn't that bend in the rod what fishing is all about?