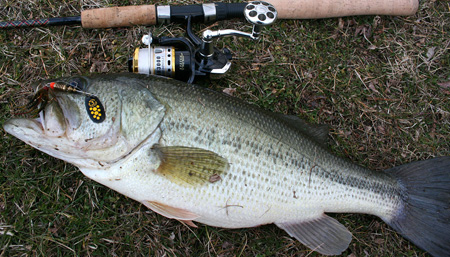 photo by Bucky D'Agostino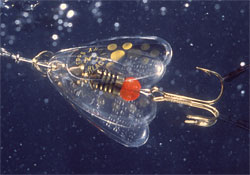 The Black Fury with a plain treble hook is one of the great all-time Mepps spinners. The special Black Fury blade spins closer to the body than the classic Aglia blade so it easily fishes shallow to mid-depths. All Mepps Black Furys are excellent low light (early morning, evening or overcast) spinners as well as a perfect choice for sunny days when contrast with the brightness of the water, weeds and structure is needed. Whether you select a

plain or dress Black Fury is strictly personal preference. Most panfish and bass fishermen prefer dressed spinners, while most trout and salmon fishermen prefer plain treble hook Black Furys. Either is very effective at catching a wide variety of freshwater game fish. Largemouth bass, smallmouth bass and walleye fishermen should also consider a Black Fury Combo.
Black Fury Dressed Treble
The dressed Black Fury is one of the great all-time Mepps spinners for catching everything from trophy largemouth bass, smallmouth bass, northern pike and musky, to panfish and small stream trout. All dressed Black Furys feature either natural squirrel tail or bucktail.
Black Fury Combo
Mepps Black Fury Combos are almost weedless, making them perfect for everything from trophy largemouth bass, smallmouth bass, walleye and northern pike, to panfish and small stream trout. All Mepps Black Fury Combos feature a Mister Twister Keeper Hook and come with three genuine Mister Twister Curly Tail Grubs.
Siouxriver Phelps – Bonham Lake, Texas
Fish Caught: Bass, Largemouth - Bass, Smallmouth - Catfish, Channel - Crappie (Black) - Crappie (White) - Perch, Yellow
I usually don't catch that much fish, but when I use my Mepps I catch a lot of fish of different species! Best lures in the world no doubt!
Nick Smith – Grand Union Canal, Near Aston Clinton (UK) United Kingdom
Fish Caught: Perch, Yellow
An excellent lure for autumn fishing in the relatively shallow water of the canal (max. depth: 6 feet). Caught 12 fish including 9 perch - lovely hard fighters - with three to a 1.5lbs and 2 pike to 5lbs, which is excellent for this hard fished water. Autumn is the perfect time for lure fishing as the predators are hungry and fattening up for the winter. Most of the hits came in the late afternoon as the light start to fade. High contrast day of bright sun and shadow. Lure moves beautifully in the water, mimicking a small perch - it looked like the black stripes on its side. Highly recommend this lure.
Craig J. McCasland – Fern Lake, AuSable Forks, New York
Fish Caught: Bass, Largemouth - Bass, Smallmouth - Pike, Northern - Walleye
Biggest Pike I have ever caught. The Black Fury is my go to lure when all else fails. I thoroughly enjoy all Mepps products!
40 in. 12.6 lbs. Northern Pike. Black Fury with orange accents. Caught in 2.5 feet of water.
Jamal Jenkins – Somerset County, New Jersey
Fish Caught: Bass, Smallmouth
In low visibility, I've caught close to a dozen smallmouth on the same fluorescent red dot and black spinner in a few hours. Mepps gets 5 out of 5.
Eddie Johns –
I have two Black Fury baits that I bought in the 70's. I still use them today in bass tournaments. After retiring from teaching and fishing bass tournaments for 31yrs, I still find them to be a very productive bait. I now fish the Bassmaster opens. This year as a co angler but not again. I will fish as a pro next year. I have nine sponsors.
Mepps has been an intrigal part of my many wins and top ten finishes over the long career. I still fish these same two when the situation calls for it. My son uses them now and I've allowed him to as I taught him secrets to using them. He is as hooked on them as I've been over all these years and loves catching bass on them.
Great product. Long lasting. Fish catching. Easy to use. Very versatile bait. Has worked for me in all conditions over time.
Robbie Burns – Lake Fryer, Texas
Fish Caught: Bass, Largemouth - Bass, Smallmouth - Bluegill (Bream, Brim) - Crappie (Black) - Crappie (White) - Walleye - Barracuda
I bought the lure being a little skeptical seeing not very many reviews or product testing; even on YouTube there wasn't much. I bought the Black Fury in sizes 1,2 and 3. The number 2 & 3 are awesome! It's almost every other cast you'll get something on the Black Fury. The catch was almost 3lbs and I just recently caught an 8lb largemouth. It's an awesome lure and is a fish magnet. A must have for anybody who loves to throw a lure around.
Noland Michels – St. Lawrence River, Wellsley Island, New York
Fish Caught: Bass, Largemouth - Bass, Smallmouth - Perch, Yellow - Pickerel - Pike, Northern - Walleye
Whenever I go out fishing anywhere I always make sure I carry AT LEAST 2 Black Fury's dressed. My personal preference is Black/Chartreuse in a #5. I have caught countless Northerns on these (and I only retire them after the paint and stickers are mostly shredded off by teeth marks). I currently have 3 of them with all of the paint stripped off and another on the way. They produce bar none. I had a fishing competition just this past week. Fishing was real rough as only 4 Northerns were caught. 3 of them were by me with the Black Fury. I have never gone out with this lure and not caught a fish. I am amazed at the successfulness of this lure and highly recommend it to all of my friends and anyone else who is reading this! Mepps has my loyalty and money for life!
Thomas Nichols – Bangor, Maine
Fish Caught: Bass, Largemouth - Bass, Rock - Bass, Smallmouth
This is my go to lure, I love this lure, what more can I say, its a "killer". If you haven't tried one DO IT!! You will not regret it. Just pick the size you need. AWESOME!!
Kevin Leslie – Geneva Lake, Lake Geneva Wisconsin, Wisconsin
Fish Caught: Bass, Smallmouth
Out breaking in new boat for first time with wife and son. Stopped and casted a Black Fury in 10 feet of water. First fish was a nice smallmouth that I released about 5 feet from the boat as it jumped and danced on the water!!!!!!!!! LOL. Boated two more and released. Wife caught several rock bass and son, well, he caught a cray fish and a small clam!!!!!!! He was using a Black Fury too. I guess they do catch anything!!!!!
Thanks Mepps
View All Testimonials
Share Your Testimonial
Write a product testimonial and share your fishing experiences with other customers.