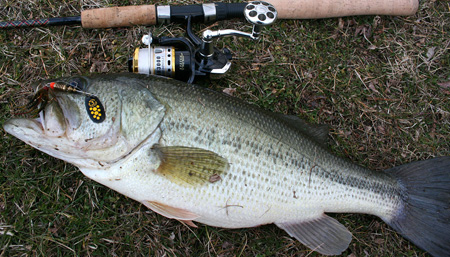 photo by Bucky D'Agostino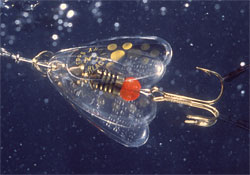 The Black Fury with a plain treble hook is one of the great all-time Mepps spinners. The special Black Fury blade spins closer to the body than the classic Aglia blade so it easily fishes shallow to mid-depths. All Mepps Black Furys are excellent low light (early morning, evening or overcast) spinners as well as a perfect choice for sunny days when contrast with the brightness of the water, weeds and structure is needed. Whether you select a

plain or dress Black Fury is strictly personal preference. Most panfish and bass fishermen prefer dressed spinners, while most trout and salmon fishermen prefer plain treble hook Black Furys. Either is very effective at catching a wide variety of freshwater game fish. Largemouth bass, smallmouth bass and walleye fishermen should also consider a Black Fury Combo.
Black Fury Dressed Treble
The dressed Black Fury is one of the great all-time Mepps spinners for catching everything from trophy largemouth bass, smallmouth bass, northern pike and musky, to panfish and small stream trout. All dressed Black Furys feature either natural squirrel tail or bucktail.
Black Fury Combo
Mepps Black Fury Combos are rigged weedless, making them perfect for fishing the weeds, brush piles and anything in-between. The Black Fury's blade spins closer to the body of the spinner so it easily fishes shallow to mid-depths. Black Fury Combos feature a Mister Twister Keeper Hook so anglers spend less time rigging and more time casting.
Mepps Black Furys are excellent in low light conditions, making them second-to-none in early morning, evening or overcast skies. It's also a perfect choice for those sunny days when contrast with the brightness of the water, weeds and structure is needed.
Bill Danfield – Wisconsin River, Rhinelander, Wisconsin
Fish Caught: Bass, Largemouth - Musky - Pike, Northern - Walleye
This is my "go to" bait under most conditions --- I've caught a few legal muskies using the # 5 BLACK FURY despite it's size and recommend it for kids to use on spinning tackle for lots of action -pretty much guaranteed !
They slam it and hook ups are pretty much 100%
I always have a couple in the boat and if fishing is slow I can be pretty sure I'll at least have action using the Mepps # 5 Black Fury.
My best experience was going out with my son and putting on a new Black Fury -and catching a legal musky -1st cast !!!
Gabriel – Oak Creek Sedona
Fish Caught: Trout, Rainbow
Dude.. these are sick!! I purchased 3 and all I needed was 1 cast! Super happy I found. Pretty durable too plus the looks!!.
Brenton – Carney Lake, Norway Twp., Michigan
Fish Caught: Pike, Northern
This is an insane lure...I got skunked all day with everything else, and the 2nd cast with this at dusk -- BAM! I wanted something geared toward Northern Pike, so I gave the #4 dressed Black Fury a try. It was irresistible to him. I want to save up for a full set of Mepp's now. Never saw ANYTHING like this. Feels excellent in the water on retrieve. I ended up using it later in a river and lost it on a snag while trolling, but I am planning to stock up all winter so I am ready for spring.
Michael Purdy – Pikes Creek Reservoir, Pennsylvania
Fish Caught: Pickerel
I had never caught a pickerel before and was trying to get one for awhile. I read online the Mepps #3's were good for pickerel. I went and grabbed the Black Fury and ten minutes of casting, I got a great pickerel!
Steven Lyon – Lake Anna, Virginia
Fish Caught: Bluegill (Bream, Brim) - Perch, Yellow
I originally bought this lure back in 1980. This lure was my favorite lure to fish from in the canal I had in back yard in North Lauderdale Florida while I was in Elementary school. I could catch bluegill and brim all day long with this lure. Now move forward 40 years later. I just started getting back into fishing and dusted off my childhood tackle box. I caught a fish on the first cast with this lure in Lake Anna Virginia. I then caught 5 more within 15 minutes only to get the lure snagged and my line snapped. My heart sank, at the loss of this lure and to my pleasant surprise I looked online and found that this same exact lure is still being made and sold. I instantly bought the same one I lost and then a couple new ones in other sizes and colors. Thank you Mepps! Your loyal customer.
Al Figone – Klamath, Oregon
Fish Caught: Salmon, Coho (silver) - Salmon, Chinook (king)
I bottom drag this Black Fury across river pools where Salmon school before runs up river ladders. If, after a couple days, the paint isn't coming off the lure body, then I'm not down deep enough where the big fish are. When I get hook ups it's always a fight to remember.
Ben – Central Iowa, Iowa
Fish Caught: Bass, Smallmouth - Bluegill (Bream, Brim)
The smallmouth can't leave this bait alone -- just caught my PR this evening! I tend to not like fishing treble hooks, so I was pleased to pick up the Black Fury Weedless Combo Killer, which features a single hook and a soft plastic keeper for Mr. Twister Curly Tail Grubs (3 grubs are included in the package). I was suspect of the bayonet-style keeper at first, but it seems to work fine, even in the faster currents of the rivers and creeks where I do most of my fishing. Hooksets are automatic, and fish stay pinned while doing their smallmouth acrobatics. I bought the #2 size in white/black and it casts well, but now I'm wishing I would have picked up the #3 size as well for when I need the extra casting distance. Great product, Mepps, and a good value -- would buy again!
Siouxriver Phelps – Bonham Lake, Texas
Fish Caught: Bass, Largemouth - Bass, Smallmouth - Catfish, Channel - Crappie (Black) - Crappie (White) - Perch, Yellow
I usually don't catch that much fish, but when I use my Mepps I catch a lot of fish of different species! Best lures in the world no doubt!
Nick Smith – Grand Union Canal, Near Aston Clinton (UK) United Kingdom
Fish Caught: Perch, Yellow
An excellent lure for autumn fishing in the relatively shallow water of the canal (max. depth: 6 feet). Caught 12 fish including 9 perch - lovely hard fighters - with three to a 1.5lbs and 2 pike to 5lbs, which is excellent for this hard fished water. Autumn is the perfect time for lure fishing as the predators are hungry and fattening up for the winter. Most of the hits came in the late afternoon as the light start to fade. High contrast day of bright sun and shadow. Lure moves beautifully in the water, mimicking a small perch - it looked like the black stripes on its side. Highly recommend this lure.
View All Testimonials
Share Your Testimonial
Write a product testimonial and share your fishing experiences with other customers.