Lure Sounds (What Fish Hear)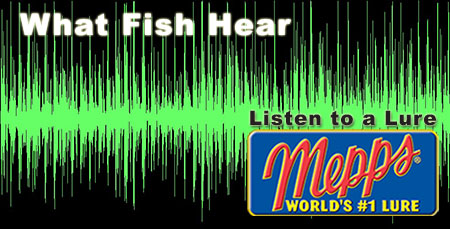 When French engineer Andre Meulnart invented the Mepps spinner in 1938, he knew he was inventing a lure completely different than any other fishing lure. Years before, James Heddon had carved his first lure from a stick. It was a crude representation of a bait fish, but, crude as it was, many game fish, especially bass, found it irresistible. The Mepps spinner, however, imitated nothing. Mr. Meulnart knew that. His lure was not an imitator, his lure was an enticer. He was convinced the spinning blade would attract fish. He also thought the spinning blade looked like a butterfly, so he called it the Aglia. Aglia is Latin for butterfly. Almost four generations later, the Mepps Aglia is still catching fish for anglers worldwide. Spinners work on flash and vibration... a flash that is visible and a vibration that is audible. Fish do not live in a silent world, just ask any diver. Underwater creatures are constantly bombarded with all kinds of sounds. Many of these sounds are produced by prey, while others may be produced by predators. Some, like the sound of a pump or turbine are produced by man.
We have been telling you for more than half-a-century that Mepps spinners are very effective because they produce a flash and vibration that entices fish to strike. It's pretty easy to see the flash of a Mepps spinner blade as it's pulled through the water, but hearing just what it sounds like has been a well kept secret up until now. It took us awhile, but we've managed to digitally capture the sound of several Mepps spinners as they are retrieved. And, what we recorded even managed to surprise us. Remember, what you are about to hear are the actual sounds produced by Mepps spinners as they are retrieved. These sounds have not been enhanced or altered in any way. Fish react to vibrations created by bait fish. The vibrations are created by tail movement. Fish "hear" these sounds with their lateral lines. Sound is seven times louder in water than it is in air. Vibration is very important in spinner design because fish can hear sounds (feel vibrations) before they see their prey. Sound is one of the main reasons spinners are so effective. We hope you enjoy listening to these sounds as much as we have enjoyed recording them for you. Oh yes, be sure your sound is turned on…
Lure Sounds
The image you see behind the lure is a picture of the actual sound waves created by that particular lure.
To hear how your Mepps spinner sounds as it's being pulled through the water click on the lure's soundwave image.