Mepps bucktails and marabous were voted America's favorite musky bucktail by the readers of Musky Hunter magazine.
The Mepps Giant Killer is an extremely versatile big-game lure that is effective in both fresh and saltwater. Bucktail and tandem bucktail Giant Killers, as well as the Giant Killer Mino are top producers of musky and northern pike. They also will catch striped bass and other saltwater predators. Plain Giant Killers are perfect for trophy king salmon.
This classic Mepps has always been a great producer of large fish because it's so well suited for water depths of four to 12 feet. Big musky and trophy northern pike are found in these depths all summer long.
All Mepps Giant Killers feature a premium extra sharp, heavy-duty 5/0 hook, and produce a very definite vibration when retrieved. Tandem Giant Killers feature a premium extra sharp, heavy-duty 5/0 hook and heavy-duty 3/0 trailer hook.
Plain and Bucktail Giant Killers weigh 1-1/4 ounces. The Giant Killer Mino features a 4" airbrushed Mino and weighs 1-1/2 ounces. Tandem Giant Killers weigh 1-3/4 ounces. Regardless of which model you select, the Giant Killer's heavy blade and solid brass body make long casts possible with little effort.
The image you see behind the lure is a picture of the actual sound waves created by that particular lure.
To hear how your Mepps spinner sounds as it's being pulled through the water click on the lure's soundwave image.
Giant Killer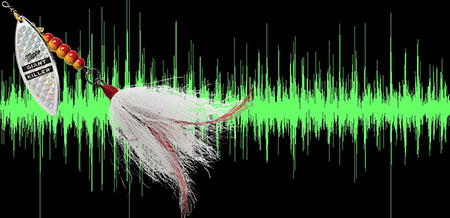 Like the Mepps Magnum Musky Killer, the Mepps Giant Killer produces a very definite "thump" as it's pulled through the water. However, because its willow leaf blade spins closer to the body of the spinner, the Giant Killer's sound is pitched slightly higher than the sound the French blade produced on the Magnum Musky Killer. The Giant Killer's "thumps" are also spaced closer together. This gives the illusion the Giant Killer is always being retrieved rapidly, when in reality its sound was recorded at a medium retrieve.
Joel Houge – Lake Minnetonka, Minnesota
Fish Caught: Musky
Caught the second musky of the summer and my life with the Giant Killer, used it for the first time today and brought in 7 northern pike and a 38 inch Musky!
Chris Kelly – North Pond, Maine
Fish Caught: Bass, Largemouth
First cast with this and I pulled in a 19 inch and approximately 7-7.5 largemouth, I have never had a largemouth fight so hard, was pretty sure it had to be a pike but to my surprise it was a giant bass
Moe Johnson – Valdez, Alaska, Alaska
Fish Caught: Salmon, Coho (silver)
I caught several big silvers with an orange Giant Killer over Labor Day Weekend. My wife and father used several other lures with minimal success, but the Giant Killer produced fish after fish.
Alec – Upper St. Regis Lake, New York
Fish Caught: Pickerel - Pike, Northern - Trout, Lake
This lure is great for lakers... just troll slowly acrosse the lake and bam you slam one. The pike love it... and you will catch trophy pickerel with this lure.
John D – Kittatiny Lake , New Jersey
Fish Caught: Pike, Northern
I am not a good fisherman, but using these Mepps lures I have caught many cockroaches (northern pike). I caught so many yetserday I lost count. I also out fished everyone on the boat..Which makes me feel bad because I am the only one having fun. If you like roaches you'll love the Mepps #5!
Thomas Novobilski – Chenango River & Susquahana River, Binghamton , New York
Fish Caught: Musky
I been fishing for musky's on and off for about a year now. I recently used your Mepps Giant Killer Bucktail for the first time and boated my first two muskies. First one was a 38 inch from the Chenago River and second was a 41 inch from the Susquahana River, both within about a week of each other. Your lure enabled me to catch the "1 in a 1000 cast fish" faster then I ever thought possible. Your lures will be always be a part of my fishing tackle when heading out to "Hunt for Musky". Thanks for making a Great Product.
Sincerely
Tom
Share Your Testimonial
Write a product testimonial and share your fishing experiences with other customers.