Mepps Premium Lures
Thank You for Considering Mepps® for your Premium Needs!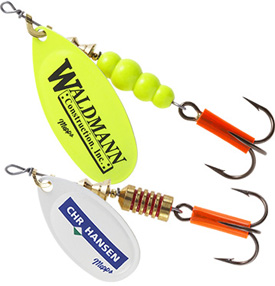 Mepps, a leader in fishing tackle for more than 60 years has been manufacturing quality promotional products for a diversified list of clients all that time. Anglers using Mepps lures have caught more world and state record fish than any other fraternity of fishermen. Put the power of a Mepps premium promotion to work for you. We're fast, efficient, recognized world-wide and our award-winning customer service is unequaled.
MINIMUM ORDER…
Details (in PDF format)
-or- Call 1-800-637-7700 for details
For lure selection and pricing, please refer to our Lure Section on website or current Mepps Catalog.
Please note: Mepps cannot and will not sell premium lures to the public. They are the sole property of the company whose logo appears on the blade.
Examples
3-lure Pocket Pac plain and dressed hooks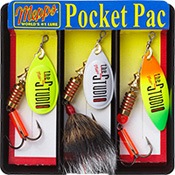 #2 Aglia® Long dressed treble hook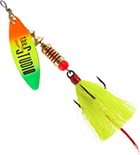 #5 Aglia® plain single hook

Artwork
To ensure your logo is clean and correct, we ask you to please send us digital artwork whenever possible. We need a vector file in Encapsulated Post Script (EPS) or Adobe Illustrator (AI) format. Bitmapped (rasterized) files are not acceptable. These include PNG, JPEG, GIF, BMP and TIFF files. We will be happy to contact your agency or work with your in-house art department to secure the correct artwork.
You can download a detailed description of our digital file specifications in PDF format.
PLEASE NOTE: All premium lures require a Mepps logo and must be paid for prior to beginning production. Thank you!
For additional Premium Lure Information contact:
Laurie Powell
E-mail: premium@mepps.com
Toll Free: 800-637-7700 (Monday - Thursday 7:30 am - 4:00 pm)
Fax: 715-623-3001