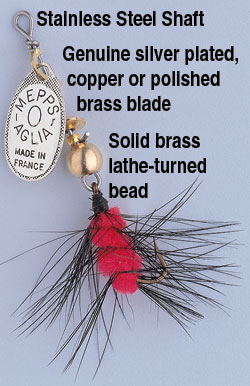 Perfect wherever single hooks are needed!
Virtually snagless, these lightweight single-hook Mepps are ideal for both the trout and panfish enthusiast. Just a bit heavier than Mepps Ultra Lites. Both spinner fishermen and fly fishermen will enjoy the touch of added weight.
All Spin Flies are either dressed with natural hackle or a classic wooly worm. Like the Mepps Ultra Lites, the Aglia Spin Flies are ideal for taking bedding panfish or stream trout, anytime of the day, all season long.

Use silver on bright days. Polished brass (gold) blades produce best when it's overcast. Try copper in streams after a heavy rain, or in dark, stained water.
Work weed beds, submerged timber, rip-rap, undercut banks and just about any other cover where fish hang out. Great fishing action.
Stainless steel shaft to resist bending. Extra strong folded brass clevis. Solid brass blades, bodies and beads. Mepps quality throughout.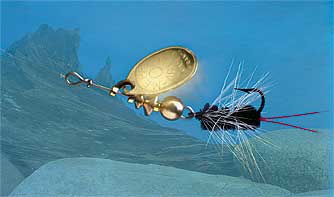 Hand-tied wooly worm stays flared under water
Wayne – Gatlinburg TN, Tennessee
Fish Caught: Trout, Rainbow
Mepps spinners have always been one of my favorite lures. The Spin Flies are perfect for Rainbow Trout. They particularly work well early in the morning during low light conditions. I wouldn't go trout fishing without several of these.
Charleys Outthere – Canyon Creek, Arizona
Fish Caught: Trout, Brown - Trout, Rainbow
Yes believe it or not we have excellent trout fishing in Arizona..Canyon Creek has both resident rainbows and stocked. Also, a large population of wild brown trout. The spin flies are excellent for a small creek..they spin easily and bring out the biggest fish at any time of day..I'm an avid steelhead fisherman (not in Arizona) and the Mepps Aglia #3 in gold is my choice for steelhead spinners, so when it came to the right lure for a smaller species, Mepps was my choice..12 fish both rainbows and browns caught on a 500ft stretch of creek is great by anyones standards.
Silver blade, black wooly worms, excellent all around choice.
Lisa Mongillo – Chattooga River, SC/GA Border, South Carolina
Fish Caught: Trout, Brown - Trout, Rainbow
I was out on a day where the fishing report was bleak and I wasn't getting a bite or seeing a single fish rise. I crossed paths with a kind stranger who asked, "What are you using?" I showed him my fancy new "Trout Magnet crank bait" that was "guaranteed to reel em' in". He took a single hook Mepp's spin fly out of his stash and said, "Here, keep it. It's the only lure you will ever need." I walked downstream as the stranger left and caught a decent 10" brown trout on my second cast. A few minutes later I caught a fiesty little rainbow. Neither fish was huge, but the stranger saved me from getting skunked on a day where the fish were hiding out. I just ordered half a dozen more in a few patterns. Can't wait to get back out there!
Schuyler Hornung – Roaring River, Crabtree Creek, Thomas Creek, Scio, Oregon
Fish Caught: Steelhead - Trout, Dolly Varden - Trout, Rainbow
I love the Mepps SPINFLY in the wollyworm pattern because where I come from you either match the forage the fish are eating or you're going home empty handed. So, the wollyworm pattern in the green or brown work fantastic in the streams and rivers around my house. There is also the occasional steelhead in the streams and when they catch a glimpse of the SPINFLY, they'll hit it in an heartbeat. I also love the fact that I can use the #00 SPINFLY on my Redington fly rod, but, I prefer the #0 SPINFLY on my ultralight rod and reel. Overall, I LOVE the Mepps SPINFLY in the wollyworm pattern.
Brent Alexander – Smithton, Illinois
Fish Caught: Trout, Rainbow
While on vacation in N Georgia, I took time to fish with my Ultra Lite on the Soque River. I wanted to just relax and possibly net a few rainbows. To my suprise, I caught a number of really big rainbow trout, one was a 10.7 lb monster! All of the fish were caught on my favorite little Wooly Worm Spin Fly by Mepps. I made a YouTube video of the catch and release and give Mepps credit! Look up "Big Rainbow Trout on the Soque River" by Brent Alexander 1 and check it out! Thank you for making the best lure in the world!
Outdoorsman – Wisconsin
Fish Caught: Trout, Brook - Trout, Brown
The Mepps Spin Fly is a great trout spinner. I caught the biggest fish probably ever in our little creek on these spinners.
Jay C. – Sutton Creek, Florence, Oregon
Fish Caught: Trout, Rainbow
This is an amazing lure! I can use any other types of spinners and catch 1 out of 10 - 15 casts. With the Spin Fly, it's almost every other cast!I have been using this lure for about 6 years now and will continue on for MANY MORE!
THANKS!
Puck – Pooneer Park Pond , Utah
Fish Caught: Trout, Palomino - Trout, Rainbow
This lure is amazing. I like the gold and yellow in cloudy weather and the silver and white in Sunny weather. I caught so many trout on this that they just got beat up. With the quality of Mepps it takes a lot to beat up one of their lures it would be nice if they were in size 1 and smaller. Thanks Mepps best lures out there.
Shawn A. – Private Lake, Peoria, Illinois
Fish Caught: Bass, Largemouth - Bluegill (Bream, Brim) - Crappie (Black) - Crappie (White) - Sunfish (shellcracker)
I love this little lure! I am convinced it will catch just about anything with fins. I remember one day in particular, my brothers and I were fishing a private lake. I was throwing a red wooly worm, and it seemed like I was catching something every other cast. My brothers, who were not doing as well, asked what I was using and if I had any more that they could use. I will be stocking up pretty soon for this upcoming season.
View All Testimonials
Share Your Testimonial
Write a product testimonial and share your fishing experiences with other customers.