The image you see behind the lure is a picture of the actual sound waves created by that particular lure.
To hear how your Mepps spinner sounds as it's being pulled through the water click on the lure's soundwave image.
Aglia Long #00 (Ultra Lite)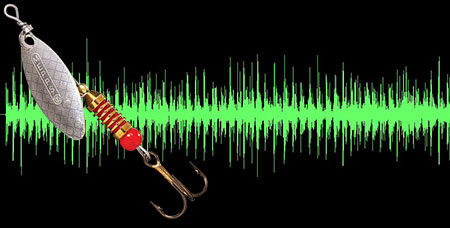 Mepps Ultra Lites are the smallest spinners we make. Because they weigh only 1/18 oz., their small blade has to work hard to produce a sound. None-the-less, they do produce a light "flapping" sound during the retrieve, a sound much like the flap of a bug's wings. Is this what it sounds like to the fish? We can't answer that, but we do know if the fish misses the flash of the small blade, it's unlikely it will ignore the sound of this tiny spinner.
Adrian Webb – Meander River, Tasmania Australia
Fish Caught: Trout, Brown
'REASONABLE FEW HOURS ON THE MEANDER'' 16-1-13
Headed off to the Meander River this afternoon for a few hours spin fishing given it was nice and overcast in Sheffield and quite mild. When I arrived at the Meander the clouds started to separate and then the sun broke through and boy it had a bit of bite in it too. I already knew where I was going to fish and it was the fast water sections of the river. Still had the old Mepps Black Aglia on that I have stuck with over many trips now and it worked once again as it was fish on in the third cast into the river. A nice little brown of around 250gms was soon landed and released. Then over the next 150 mtrs or so I had 5 more hook ups but only managed to land one brown around the same size as the one caught earlier. Came onto another real fishy looking stretch of fast water that I was sure would hold a few fish and this was a run of probably 40 mtrs or near to it. Well what looked to be a good piece of river turned out to be a real disappointment as I didn't have one hit at all. All I could manage was a couple of follows from two very small trout. Onward to the next fast water and this was where it happened!! I hooked into a nice solid brown that gave me one hell of a battle as he went around every boulder he could find in this bit of water. I couldn't see how big he was at the time as the sun was beaming right into my face plus it was also reflecting off the river. But I knew it was a nice size fish by the power it had when making several runs for freedom and I was glad he didn't make any leaps either.
Had he done so I don't think he would have stayed on for too long, so after another 20 seconds or so ( which seemed like 5 minutes) I had him in close enough to see the size of him. He was a nice size brown for this river and I could also see that the little Mepps Aglia was only just holding him by the smallest of margins on the outside of his left side of the jaw. So I slowing worked him into a slower section of shallow water and led him into the net, what a relief once he was in it. Then the Aglia fell out and I thought, how lucky was that. A couple of quick photos of him with out removing him from the net he was soon back in the river for another day. This brown was a PB for me in the Meander as my previous best was 870 gms and that was a season or two ago, so yes I was happy to have succeeded today. Fished on for another hour and a half and picked up 6 more browns from 14 hook ups and many hits and misses. These fish were not big fish either with the biggest one going around 370gms and the others all similar to the first fish taken today. So even though the sun had put it ugly head out and onto the river it still finished up being an enjoyable few hours spinning and all fish were released as well.
** One last thing is that the little Mepps Aglia was placed into retirement after this afternoons session and not before time too. It has caught a total of 87 trout in its time of use, not bad for a $10-00 lure.
Cheers Adrian
Tony Russo – Pequest River, Warren County, New Jersey
Fish Caught: Bass, Smallmouth - Trout, Brook - Trout, Brown - Trout, Rainbow
I use the Ultra-Light Aglia Long, with the gold blade almost exclusively now, unless I'm using the Aglia Long with a silver blade! It's my go-to lure and with it I've caught very many trout, and also quite a few smallmouth bass. The quality of craftsmanship is obvious - this lure looks like a piece of jewelry!
Bryon – Warren, Michigan
Fish Caught: Trout, Brook - Trout, Brown - Trout, Rainbow
One of the best trout lures out there. I love the Mepps Ultra Lite series. For my money they're the best trout spinners on the market. I use these when the water is particularly fast because the willow blade lets the spinner runner deeper in the water than the normal french bladed Mepps Ultra Lites. I've caught all kinds of trout on these and always have at lest half a dozen of both silver and gold in my trout box at all times. Can't miss with these little gems.
Share Your Testimonial
Write a product testimonial and share your fishing experiences with other customers.