Mepps bucktails and marabous were voted America's favorite musky bucktail by the readers of Musky Hunter magazine.
Mepps Marabous will catch a variety of gamefish. Its wide #5 Colorado blade brings the Mepps Marabou close to the surface during the retrieve, making these spinners ideal for fishing over weeds, or those times when the lure should just break the surface as its blade spins.
Both largemouth and smallmouth bass, as well as big trout and walleye will take a #3 Mepps Marabou. It is comparable in size to the classic #3 Mepps Aglia but, like its big brother, the #5 Mepps Marabou, it has the action of a top quality, brightly colored marabou tail for high visibility and lifelike movement.
Don't be surprised if you catch a trophy northern pike or musky while fishing either of these lures. In fact, the #5 Mepps Marabou was designed to easily fish water missed by many musky fishermen. While the medium-running Mepps Musky Killer is "old reliable" to musky anglers, and the heavier Mepps Giant Killer, with it's willow leaf blade, runs deep and casts easily, the Mepps Marabou was designed, as mentioned earlier, for fishing over weeds.
A marabou tail also provides additional benefits. Marabou in the water has distinctly different characteristics than bucktail. Vibrant colors are easier to achieve when dying marabou. The real difference, however, is in the action and pulsation of marabou. That unruly, fluffy puff of feathers becomes "magic" under water. It is so fine and soft that each revolution of the blade makes the marabou pulsate and appear to come alive.
The image you see behind the lure is a picture of the actual sound waves created by that particular lure.
To hear how your Mepps spinner sounds as it's being pulled through the water click on the lure's soundwave image.
Mepps Marabou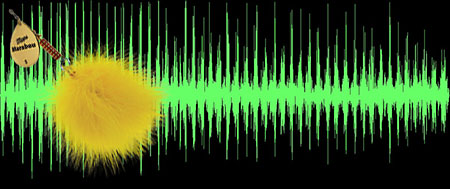 The #5 Colorado blade on the Mepps Marabou produces a very definite "thump" as it's pulled though the water. In addition, its pitch is higher than any other blade we tested in its size-class. This is understandable, however, as the Colorado blade spins further out from the body of the spinner than any other blade Mepps uses. This is a blade that definitely can be heard. It's no wonder the Mepps Marabou, with its pulsating marabou tail that comes alive with every revolution of the blade, is a favorite of trophy fishermen everywhere.
Brett Helmbrecht – Crivitz, Wisconsin
Fish Caught: Bass, Smallmouth - Pike, Northern
On impulse I bought a Marabou before my trip to Canada this previous summer, and since then, I have become more fired up over the Marabou than I have for any other lure before. It caught more and larger northern than every other lure that I tossed at snakes over my trip. After proving itself in Canada, it has continued to impress me by catching more noteable northern and smallmouth, than any other lure that I have ever used. Three of my top four monster Northern career catches have been made on the Marabou this past year. The key is the retrive and presentation. The Marabou allows you to retrieve the lure very slow, without compromising presentation, or allowing the bait to sink very deep. Very easy to fish it over difficult cover without concern for snags or weeds! I am sad to say it, but before I purchased the Marabou, spoons were the love of my life when it came to catching northern. After fishing with the Marabou, that is no longer the case. The first lure that I grab for now is the Marabou.
Share Your Testimonial
Write a product testimonial and share your fishing experiences with other customers.