Description
Mepps bucktails and marabous were voted America's favorite musky bucktail by the readers of Musky Hunter magazine.
Mepps Magnum Musky Killers are packed with all the features musky and trophy pike fishermen look for in a big lure. A heavy #7 solid brass blade maximizes flash and vibration, and produces a thump that can be felt all the way up to your shoulder. In addition, its size matches the profile of bigger forage fish. It's a whopping 143% bigger than a standard Musky Killer. The Magnum Musky Killer will run both shallow and deep depending on the retrieve.
Magnum Musky Killers can run as deep as eight feet. This makes them excellent for fishing the mid-summer haunts of big muskies, including the weed lines bordering deep water. It's also an excellent warm water spinner for fishing over weeds with a rapid retrieve. Keep your rod tip high and start your retrieve quickly.
All Mepps Musky Killers, including the Magnum Musky Killer, feature easy bucktail changes and a heavy duty, extra sharp 5/0 hook.
Tandem Magnum Musky Killer
Mepps, the undisputed leader in musky bucktails, offers its Magnum Musky Killer with a tandem bucktail. The tandem tail not only enlarges, but enhances the profile of this already highly visible lure.
The size of the Magnum Musky Killer Tandem matches the profile of large sucker minnows and big other forage fish.
As if this weren't enough, every tandem bucktail is hand-tied with a premium heavy duty 5/0 Cone Cut hook and a rugged 3/0 stinger hook. Color selection is unbeatable.
Audio
The image you see behind the lure is a picture of the actual sound waves created by that particular lure.
To hear how your Mepps spinner sounds as it's being pulled through the water click on the lure's soundwave image.
Magnum Musky Killer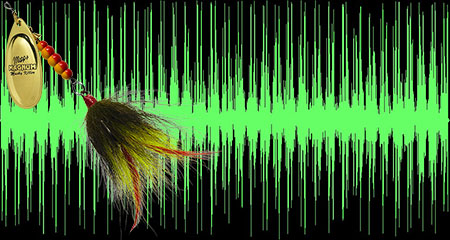 The Magnum Musky Killer features a #7 French (Aglia) blade, the largest French blade of any Mepps lure. Comparing these two blades under water is like watching a defensive lineman running along side of an offensive lineman. The sound of the #5 Aglia blade is steady and deep with a rapid repetitive "thump." The Magnum Musky Killer blade sounds similar, but, the "thump" is deeper and slower, very much like a slow-moving locomotive. This is a sound that can be heard a long way underwater.
Testimonials
Jim Curtiss – Eagle Lake , Ontario , Canada
Fish Caught: Musky
I caught a lunker 45 inch Muskie on a Mepps Magnum Musky Killer. We caught several more fish including Pike, Smallmouth and Walleye all on the same orange and black bucktail.
Bill Lokn – Lake Tahoe, California, California
Fish Caught: Bluegill (Bream, Brim)
Just caught a 6.5 pound shellcracker on it. Probably would have been a record but I threw her back. What a great lure, going to see if the great whites like it to this weekend.
Julie Curtes – Perrault Lake, Canada, Wisconsin
Fish Caught: Musky
I have been using your Silver bladed, black bucktail Magnum Musky Killer for about 5 years now. In 2005 I caught my biggest musky to date, which was 45" and 30 lbs on Perrault Lake in Northwestern Ontario. I retired that bait and replaced it with the same Magnum Musky Killer. Since then I have caught many large northerns and small muskies. And now this past Saturday I caught my 2nd biggest musky which was 43". The fish almost swallowed the bait whole. I love this bait and plan on purchasing a new one soon. My replacement is about out of life. Thanks so much!!
STEVEN DEWHURST – Young Lake, Ontario , Canada
Fish Caught: Pike, Northern
I USE THIS LURE IN CANADA AND ONLY THIS LURE. I HAVE CAUGHT OVER FIFTY NORTHERN PIKE OVER FORTY INCHES. ONE DAY A FRIEND OF MINE WANTED ME TO SHOW THEM WHERE TO CATCH BIG NORTHERNS I TOLD THEM I WOULD SHOW THEM BUT IF THEY DID NOT HAVE THE RIGHT LURE IT WOULD NOT MATTER. AFTER A WHILE OF BEGGING I GAVE HIM A MEPPS MUSKY KILLER MAGNUM IN FIRETIGER THIS IS ALSO THE ONLY COLOR I USE ON THAT LAKE. AFTER MARKING THE DEEP WEEDS I LEFT HIM TO FISH AND WENT TO ANOTHER PART OF THE LAKE. WE SET UP BY MARKING OUR DEEP WEEDS AND SET UP TO DRIFT OVER THEM WHEN WE LOOKED UP AND HIS BOAT CAME UP ON US AT A VERY FAST RATE. MY FREIND ON HIS FIRST CAST HAD CAUGHT A FORTY ONE INCH PIKE, HE IS NOW A FIRM BELEIVER IN MEPPS FIRETIGER!!! STEVE DEWHURST OSHKOSH WISCONSIN
Trevor – Wolf River Wisconson, Wisconsin
Fish Caught: Musky
This lure is one of the best lures I've ever used before. I was using it on the Wolf River and the musky just nailed the Magnum Musky Killer, the musky was 57 inches long and it weighed in at 34lbs. So it's the best lure I've ever used before.
Share Your Testimonial
Write a product testimonial and share your fishing experiences with other customers.
Fish Species
Dressed

Northern Pike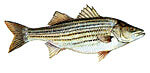 Striped Bass / Rockfish

Tiger Muskellunge
Dressed & Tandem

Muskellunge
Links & More
Catalog PDF pages
ArticlesBrochures