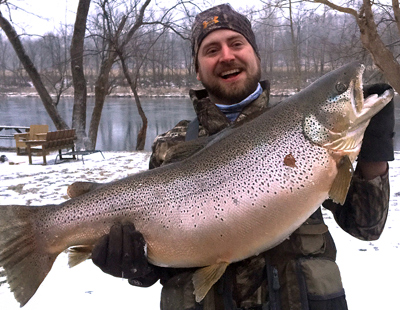 Calvin Johnston and his trophy brown trout.
Calvin Johnston, 37, of Olathe, KS has always been, and will continue to be, a bass fisherman. But after an exceptional, first ever, trout-fishing trip, he's found a new appreciation for other species.
On the evening of February 27th, the first day of his first attempt at trout fishing, he landed a 38 pound, 7 ounce brown trout from the White River near Cotter, AR. Johnston's trophy was the largest ever recorded from the White River, and the third largest brown trout ever caught in the state.
This was the first time Calvin decided to join his younger brother, Nathan, a Bryant, AR police officer, and his friends, on their annual trout fishing trip.
"We arrived at the Rainbow Drive Resort, mid-afternoon. The weather was terrible, 17-degrees and snowing, and the river was high and running fast, but we decided to fish for a couple hours. We caught a couple fish in the 2-to-5-pound class, which was exactly what the guys who had been coming on this trip for years were expecting. In fact, they figured the 5-pounder would probably hold up as big fish for the weekend."
Soon, the cold got the best of them, and everyone headed to the cabin for the evening. After warming up, Calvin decided he would head back out for the high-percentage, last hour of sunlight. He was on his own.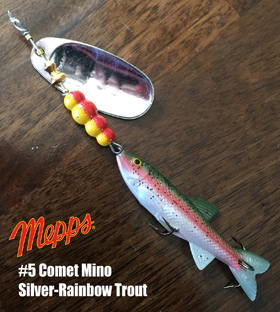 The actual Mepps Comet Mino used to catch the giant.
His waders had frozen solid from fishing earlier, so he stood on the shore, casting the river. He was using his drop-shot rod, (remember, he's a bass guy), a 6'9" spinning rig, spooled with 15-pound braid for the main line and a 10# fluorocarbon leader. He decided to throw a classic, #5 Mepps Comet Mino with a silver blade and rainbow trout mino body.
"I knew a #5 was probably a bit large based on the average size of the fish we had been catching, but I've always thought bigger baits catch bigger fish. Plus, since I wasn't able to wade, I wanted to be able to make long casts from shore. And, I figured the rainbow trout imitating Mepps spinner seemed like a logical choice for trout on the White River."
Not long after he started, Johnston's lure ran past a nearby dock and the fish struck.
"I had missed a couple fish earlier by setting the hook too hard, just like I would when bass fishing. I remembered the advice the guys gave me, and just reeled into this one. The fish made a good run and I was impressed by how powerful these trout can be. I was enjoying the fight, thinking everything was typical and according to plan, when that giant rolled at the surface. I couldn't believe what I was seeing!"
He called over his shoulder, back to the cabin, for someone to bring a net, but there was no response. He tried again and again, to get their attention and explain that he had a real trophy on. Later his brother admitted they had heard, but figured he'd be alright. Eventually, a stranger staying in one of the other cabins strolled by to see what the fuss was about. At first, he wasn't all that excited either, but soon the fish rolled again so he could see it, and a frantic search to find a net began.
The fish made several powerful runs aided by the current. "Several times, we had her near shore, but couldn't get her into the net," says Johnston. After a 20-minute fight, the fish was finally netted and lifted to shore. "At that point, the line actually broke in my hand."
When the guys finally came out to see the "trophy", no one could believe what Calvin had just caught. They lifted it with a hand-held scale and the numbers bounced around the 40-pound mark. They knew they were looking at a rare, exceptional fish. Immediately, they got on the phone and tried to create a plan to certify and record this catch accurately.
"Eventually, we were connected to Christy Graham, the Arkansas Game and Fish Commission's trout management program coordinator. Even though the road conditions weren't great because of the snow, we set off on the 30-to-40-minute trip to meet her. Needless to say, she was pretty excited to see that fish."
Johnston's trophy is currently at a taxidermist. Mepps plans to have a replica made to display in their corporate office in Antigo, WI.