Bass Caught by Tim with Mepps in Illinois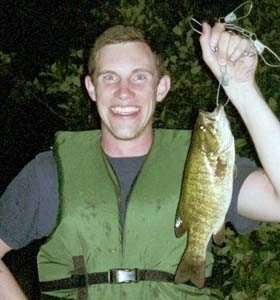 Download Image
Fish Information
Fish: Bass, Smallmouth
Size: 15"
Lure Information
Lure: Black Fury #3 Chartreuse
Angler Information
Angler: Tim Meador
From: Normal
Country: United States
My Story
I was casting to a weedbed between an island and the shoreline at dusk, and hooked this beautiful smallie. Almost immediately after landing it, I was swarmed by hundreds of mosquitos! My brother and I nearly tipped our canoe trying to get out into the middle of the lake and into the wind away from the bloodsuckers. This is the largest smallie I've ever caught and will always remind me of a perfect trip with my brother Thomas.
Catch Information
Caught at: Ensign Lake, BWCA, MN
State: Illinois
Country: United States
Caught On: Tuesday July 11, 2006