Bass Caught by David with Mepps Comet Mino in Wisconsin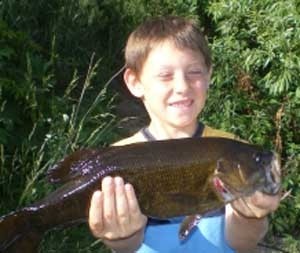 Download Image
Fish Information
Fish: Bass, Smallmouth
Size: 2Lb. 6oz.
Lure Information
Lure: Comet Mino
Size: 3
Color: Silver
Angler Information
Angler: David Olofson
From: Berlin
Country: United States
My Story
Tried a few different lures throughout the afternoon and had some problems with the vegetation always messing up the retrieve so I decided to try something a bit different. I had my dad take a #3 Comet Mno with a silver blade, remove the Mino and put on a #3 keeper hook and a Pearl Mister Twister. The first cast with it landed a really nice smallmouth. Over the next hour a few other nice smallmouth and northern pike fell to the combo, but none as nice as the first one. Over the past few weeks this combination has proven to be a great fish catcher in clear water when a lot of weeds are troubling standard and treble hooks.
Catch Information
Caught at: Aruraville Dam
State: Wisconsin
Country: United States
Caught On: Saturday June 9, 2007