Musky Caught by Sorin with Mepps in Romania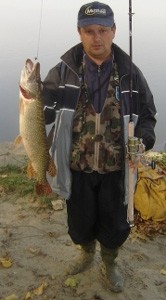 Download Image
Fish Information
Fish: Musky
Size: 60 Cm 3 Kg.
Lure Information
Lure: Mister Twister
Size: 7.5 Cm Grub
Color: White
Angler Information
Angler: Sorin Alexevici
From: Bucharest
Country: Romania
My Story
Last year it was first time to spin fishing on Danube River, Calarasi County. After 4 hours of spinning with no results, at 11:30 I was hit by this superb musky. The luck of the beginner and than I started to improve my fishing predators. It was very difficult to pull it in, a friend of mine helped me.
Catch Information
Caught at: Danube River
State:
Country: Romania
Caught On: Sunday October 29, 2006