Steelhead Caught by Charles with Mepps Comet Mino in New York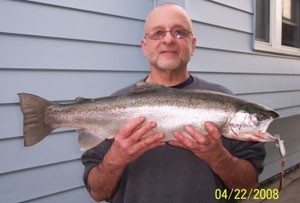 Download Image
Fish Information
Fish: Steelhead
Size: 28 1/4'' -- 8 3/4 LBS.
Lure Information
Lure: Comet Mino
Size: #4
Color: Gold Blade
Angler Information
Angler: Charles Mesi
From: Buffalo
Country: United States
My Story
Was fishing for about 2 hours with no luck. Started to fish the mouth of the Niagara River, after my 6th cast I hooked this beauitful steelhead trout. It took about 15 minutes to bring in.
It was the only fish I caught.
Catch Information
Caught at: Mouth Of Niagara River
State: New York
Country: United States
Caught On: Tuesday April 22, 2008