Musky Caught by Ryan with Mepps Aglia & Dressed Aglia in Wisconsin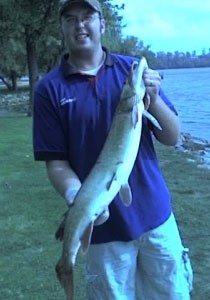 Download Image
Fish Information
Fish: Musky
Size: 38 In. 15lbs.
Lure Information
Lure: Aglia & Dressed Aglia
Size: #4
Color: Gold Blade-Grey Tail
Angler Information
Angler: Ryan Schultz
From: Wausau
Country: United States
My Story
Well I was fishing off shore for bass with a #4 Aglia dressed treble with 8lb. test. I had caught a couple bass and about 15 minutes after catching an 18 in largemouth I felt another hit on my lure. So I jerked the rod up to set the hook and the drag on my reel started screaming! After a few seconds of reeling I adjusted my drag and I started reeling in what I thought was a monster bass, when all of a sudden about 20 feet from shore a musky jumps out of the water and reveals itself to be whats on the end of my line. After about 5 minutes of gently fighting it(I was only fishing with 8lb test on a Berkley medium Lighning Rod) we netted and landed this little beauty. You just never know what your going to catch when you're throwing a Mepps!
Catch Information
Caught at: Lake Wausau
State: Wisconsin
Country: United States
Caught On: Monday September 22, 2008