Salmon Caught by Carlos Alfredo with Mepps in United States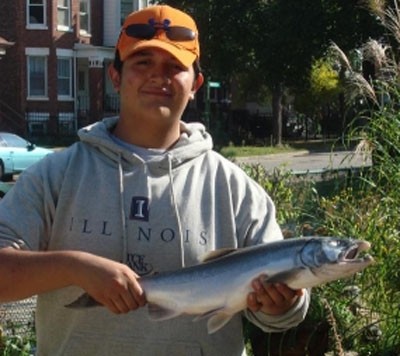 Download Image
Fish Information
Fish: Salmon, Chinook (king)
Size: 10.2lbs/25in
Lure Information
Lure: Little Wolf
Size: 3/4 Oz.
Color: Silver/Pink
Angler Information
Angler: Carlos Alfredo Sandoval
From: Chicago
Country: United States
My Story
Got up early and drove over to Jackson Park with my Dad in Chicago and hooked this King Salmon. Put up a decent fight due to the fact that I had Fireline, it didn't give the fight it would give others. I threw crank-baits, Mepps spinners, and other spoons, but the Little Wolf is what got him! I recommend using the Little Wolf because it has a unique swimming action that is hard to pass up! Little Cleos, KO Wobblers, Krocodiles, and Daredevils (to name a few) are nice, but the Little Wolf is my "go-to" spoon! Thanks Mepps!!!
Catch Information
Caught at: Chicago, Illinois
State:
Country: United States
Caught On: Saturday October 11, 2008