Walleye Caught by Daniel with Mepps in Michigan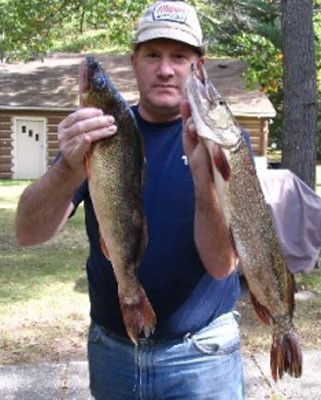 Download Image
Fish Information
Fish: Walleye
Size: 22 7/8" 4 1/4 Lbs
Lure Information
Lure: Spinflex
Color: Hot Chartruse Head, Orange/chartruse Blade
Angler Information
Angler: Daniel Barnes
From: Swartz Creek
Country: United States
My Story
I was fishing on a pontoon with my Mom. We were looking for fall perch. I tipped the SpinFlex with a minnow and we were drifting over weeds. I hooked the walleye mid-day and the pike just a little bit before dark. We caught a few perch, too.
I like to practice catch and release most of the time but I have to admit this catch was really good after Mom got through with them in her frying pan!!
That SpinFlex has become my favorite lure, it has to be the most versatile lure I have ever used. I have even caught smallmouth in over a 100' of water on them.
Catch Information
Caught at: Van Etten Lake
State: Michigan
Country: United States
Caught On: Sunday October 12, 2008