Bass Caught by Karen with Mepps Aglia & Dressed Aglia in Maine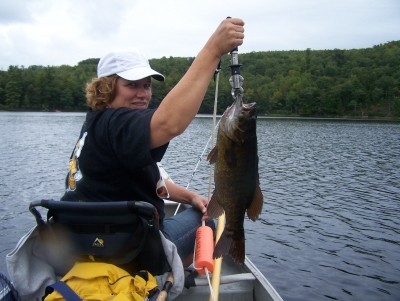 Download Image
Fish Information
Fish: Bass, Smallmouth
Size: 3.10 Lbs 20"
Lure Information
Lure: Aglia & Dressed Aglia
Size: #5
Color: Rainbow Blade, Dressed White
Angler Information
Angler: Karen Rose
From: Amesbury
Country: United States
My Story
We caught 50 fish that just attacked everything we threw at them. Almost all (45) of the fish were caught on Mepps spinners. The yellow perch were all fat and just under a pound each. The pickerel were ferocious too. We both came close to getting qualifying pickerel for our Master Agler chevrons. The eight smallmouth we caught were between 2 and 3.5 lbs and jumped like crazy. This fish was one of mine over 3 lbs, and it will qualify me for my first Master Angler chevron!!
Catch Information
Caught at: Hales Pond Fayette, ME
State: Maine
Country: United States
Caught On: Saturday September 12, 2009