Pike Caught by Daniel with Mepps Aglia & Dressed Aglia in Michigan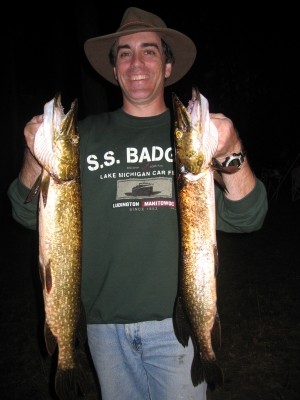 Download Image
Fish Information
Fish: Pike, Northern
Size: 24"
Lure Information
Lure: Aglia & Dressed Aglia
Size: #4 Aglia
Color: Silver/Red-White Blade, Gray Bucktail
Angler Information
Angler: Daniel Crawford
From: Kentwood
Country: United States
My Story
I have about 20 different Mepps lures of Aglias and Black Fury's which have been my favorites since I was 16 and many of these colors are no longer made. The Red & White on Silver Blade is my favorite for Bass or Pike but very strange you can't get this color in the store, mail order only. My brother and I caught 7 Northerns this one night, all on Mepps and these are two of them. The one that is fatter, just consumed a fish before biting the Red & White Mepps Aglia Silver Blade, Gray Bucktail!
Catch Information
Caught at: Long Lk.
State: Michigan
Country: United States
Caught On: Sunday July 26, 2009