Salmon Caught by Jason with Mepps Aglia Marabou in Indiana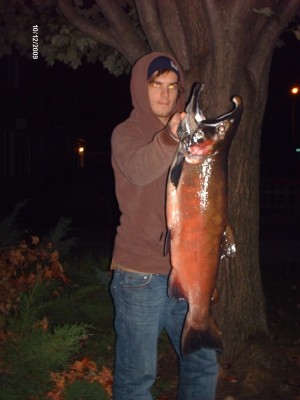 Download Image
Fish Information
Fish: Salmon, Coho (silver)
Size: 34'' 14lb.
Lure Information
Lure: Aglia Marabou
Size: Size 3
Color: Copper Blade/Brown Marabou
Angler Information
Angler: Jason Lundeen
From: Michigan City
Country: United States
My Story
About 10 minutes to sunset, I was making my way back to the car. Taking the casual cast here and there. Initally, I saw the fish and put the spinner in front of him, but he just saw upstream a bit. So I followed him and put it in front of him again, and WHAM! He nailed my lure, and I got a good hookset. I screamed "Fish ON!," but there was nobody around to hear me. My dad was far upstream, around the bend, and HE had the net. So I fought him for a few minutes and I tried to land him with one hand when he took off, and the fight was on again. After a few more minuets, I managed to wear him down and I landed him without a net, one-handed. This is the biggest fish I have ever I caught, to date.
Catch Information
Caught at: Lake Michigan/Trail Creek
State: Indiana
Country: United States
Caught On: Monday October 12, 2009