Trout Caught by Alex with Mepps Aglia & Dressed Aglia in New York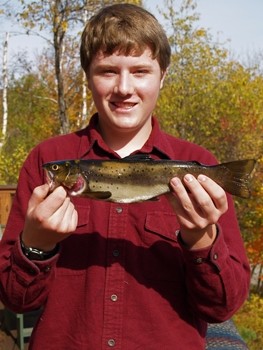 Download Image
Fish Information
Fish: Trout, Brown
Size: 14in 2.1lb.
Lure Information
Lure: Aglia & Dressed Aglia
Angler Information
Angler: Alex Retzloff
From: Tupper Lake
Country: United States
My Story
This is the first Brown Trout that I have ever caught. I caught it under a large waterfall here in the Adirondacks while I was fishing for Smallmouths. I thought it was a good sized Smallmouth because of the nice fight it put up, but when I pulled it up to the boat, I quickly realized it was a nice Brown. I had a great time and caught a lot of Smallmouths that afternoon in addition to the trout, all thanks to Mepps. Thanks again Mepps for the chance to catch so many nice fish.
Catch Information
Caught at: Adirondacks
State: New York
Country: United States
Caught On: Monday October 12, 2009