Trout Caught by Linda with Mepps XD in Georgia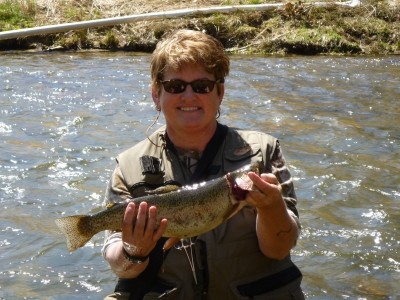 Download Image
Fish Information
Fish: Trout, Rainbow
Size: 18 In. Approx 3 Lbs.
Lure Information
Lure: XD
Color: Gold And Green
Angler Information
Angler: Linda Clement
From: Blue Ridge
Country: United States
My Story
Beautiful Spring day...70 degrees, bright sun, and the water was really cold. We had fished about 2 miles of the creek, wading upstream. We were just about to call it quits and hike back to the car when I threw one more time into a pretty little hole along side the stream under a big Oak tree. I couldn't believe it when this guy struck my lure. It felt like my arm was coming out of its socket. He had been sunning himself just outside the current and, I guess, just couldn't resist hitting that XD. It was a thrill landing him and I'm going back again this weekend. I've caught a lot of fish in the North Georgia streams, but this beautiful Rainbow was one of the largest.
Catch Information
Caught at: Cooper Creek - Chattahoochee Natl. Forest
State: Georgia
Country: United States
Caught On: Wednesday March 31, 2010