Trout Caught by Christian with Mepps Aglia & Dressed Aglia in Pennsylvania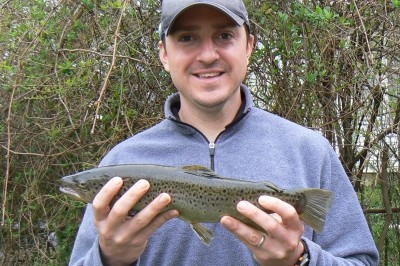 Download Image
Fish Information
Fish: Trout, Brown
Size: 16 In.
Lure Information
Lure: Aglia & Dressed Aglia
Size: Silver
Color: Silver
Angler Information
Angler: Christian Belville
From: 314 Edgemore Road
Country: United States
My Story
First day of fishing season and first time I've fished with the Aglia single hook. When I got to the creek there were a fair amout of fly fisherman. I looked for a good hole, found one, and casted about five times and came up with this beauty. Biggest brown I've ever caught. I'm 100% sold on the lure. Later that same day me and my nine year-old pulled a pair of 14 inch rainbows using the same exact lure. You guys are awesome.
Catch Information
Caught at: Ithan Creek, Radnor, PA
State: Pennsylvania
Country: United States
Caught On: Saturday April 3, 2010