Bass Caught by Cody with Mepps Aglia & Dressed Aglia in Georgia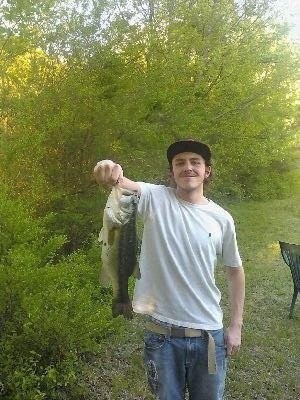 Download Image
Fish Information
Fish: Bass, Largemouth
Size: 18 Inches And 8 Pounds
Lure Information
Lure: Aglia & Dressed Aglia
Size: # 4
Color: Brown/trout/brown.
Angler Information
Angler: Cody Hensley
From: Calhoun
Country: United States
My Story
I was fishing this half acre pond across from my house. Nobody fishes this lake. I went and asked permission to fish from the owner who only uses the the land beside the lake for his chicken house business. The lake is secluded by the woods and he said he had never really ever had the time to fish, but said I sure could give it a go. Well, I did and I was out there for nearly 2 hours using other lures, when I finally said Im going to give this Mepps spinner a try. Within the second cast I landed this bad boy and talk about making my day. I always knew Mepps was a miracle bait, but this just put the icing on the cake!!! I don't know if I could have ever got him without you guys!!!!! Thanks to Mepps, I landed yet another good size Largemouth Bass!
Catch Information
Caught at: Private Pond.
State: Georgia
Country: United States
Caught On: Wednesday May 26, 2010