Salmon Caught by Ted with Mepps Aglia & Dressed Aglia in Indiana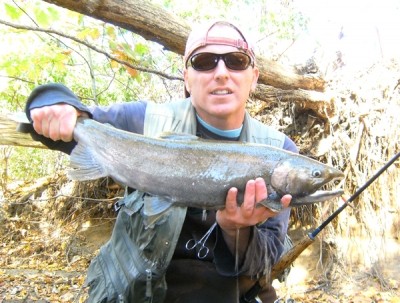 Download Image
Fish Information
Fish: Salmon, Coho (silver)
Size:
Lure Information
Lure: Aglia & Dressed Aglia
Size: #3
Color: Silver With Custom Black Decal
Angler Information
Angler: Ted Najzer
From: Portage
Country: United States
My Story
I was fishing a small little tributary that was holding a bunch of spawning coho's. I came up from behind the fish and saw her sitting on a redd. I took a cast and she tried to hit right away but I missed her. Took another cast and she spooked upstream to this fallin wooden bridge. Her head was barly under the bridge. So I decided to jigg the spinner since I could not get to her any other way. She tried to hit the spinner a few times on the drop. Finally after a few more tries I got her hooked good. Was very fun jigging my spinners today and watching them hit.
Catch Information
Caught at: Beauty Creek
State: Indiana
Country: United States
Caught On: Friday October 15, 2010