Caught by URIEL with Mepps Aglia & Dressed Aglia in Colombia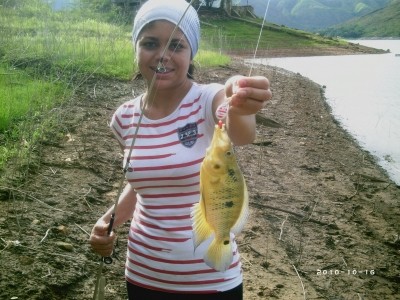 Download Image
Fish Information
Fish:
Size: 30 CMS (12 INCH) 500 GRS (1 POUND)
Lure Information
Lure: Aglia & Dressed Aglia
Size: 3
Color: GOLD/RED-WHITE
Angler Information
Angler: URIEL GARZON
From: BOGOTA
Country: Colombia
My Story
AVRIL, lleva 1 mes pescando y ya hace excelentes capturas. Mepps, el mejor amigo para nuestras pescas. Ella no cambia su cuchara N-3, gold/red-white por nada. Es su talisman, su cuchara de la suerte!
Una bonita mojarra amarilla!

(AVRIL, has been 1 month fishing and already does excellent captures. Mepps is her best friend for our fishing. She does not change her spoon N-3, gold/red-white by nothing. The #3 Aglia is her talisman, her spoon of the luck! A pretty yellow tongue!
Catch Information
Caught at: REPRESA DE PRADO, COLOMBIA
State:
Country: Colombia
Caught On: Sunday October 17, 2010