Chana Murrelius Caught by Sailendra with Mepps Aglia & Dressed Aglia in India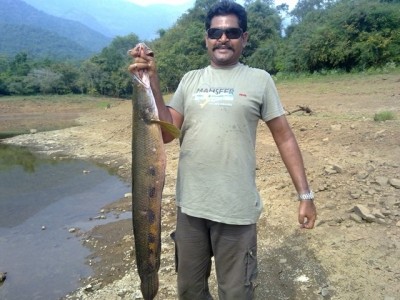 Download Image
Fish Information
Fish: Chana Murrelius
Size: 7.4 Kgs/ 16.3 Lbs
Lure Information
Lure: Aglia & Dressed Aglia
Size: 5
Color: Gold
Angler Information
Angler: Sailendra Punukollu
From: Bangalore
Country: India
My Story
Murrels are endemic to India and are a prized catch for many. Traditionally live frogs have been used. Modern anglers use scum frog lures and best success has been had on Mepps spinners. The is a tough fish to catch with nets. Virtually impossible as it can bury itself in the mud.
My friend is a specialist and has been fishing for many years for Murrel. We had made 4 futile trips and finally struck gold on the 5th trip.
We fished along one of the banks,starting late in the afternoon, nearly a 100 casts each and finally came to a cove and started casting. There was no surface activity of any kind cast a few more thinking of returning back. At the end of one of the retreives,virtually at my feet and the fish which must have been following the lure, saw me and tuned tail with a huge splash with out taking the lure. Quite a few desperate casts were fruitless. We left, decided to come the next day after lunch on based local advice.
We started casting from the same spot without success. Rounded the small cove and casted from the other side. My friend lost hope and walked further up. I persisted knowing that Murrels are territorial predators. On the 5th cast and about 1/4th of the retrieve, Whoop, the fish takes the lure and I knew it was big and the same as the one I saw last evening.
The tackle was- Quantum 8' rod, Shimano Alivio 4000 reel which came prespooled witha 12 lb line.
The fish took off on its first run and I was panicky. The fish was big and I had lost a beautiful Golden Pink Carp in the river Cauvery as the line gave away after I had fought the fish and got it to my feet.
This fish did no fight much and instead of reeling, I just walked back when ever the fish gave a little slack. As it came close and saw me, it took off on a small run. Finally landed it, with a little help from my friend.
The fish tipped the scale at 7.4 Kgs/ 16.3 Lbs. Very big for a Murrel. I have heard talk about 10-12 Kg Murrels but my friends tell me that this the largest Murrel photographed and qualifies for a record.
I give credit to the Mepps Aglia size 5 plain treble spinner with a golden plate.
Catch Information
Caught at: Piloor Reservoir, On River Bhavani, India
State:
Country: India
Caught On: Saturday January 8, 2011