Trout Caught by Patrick with Mepps Aglia & Dressed Aglia in New York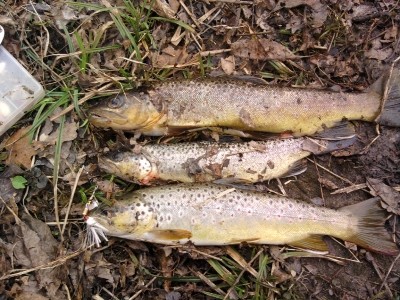 Download Image
Fish Information
Fish: Trout, Brown
Size: Between 12 And 14"
Lure Information
Lure: Aglia & Dressed Aglia
Size: #2
Color: Chrome/White
Angler Information
Angler: Patrick Mead
From: Rochester
Country: United States
My Story
Oatka Creek (NY) was high, I casted a Mepps Aglia #2 Dressed Treble out... The fish struck the lure as if it were a meal! I tried to reel it in but it was not having it. It took some line out and proceeded into the current. I tightened the drag a little and the fish came in no problem (always hooked in the corner of the mouth)... However, the fish and a few others made a very tasty lunch. Thank you Mepps!
Catch Information
Caught at: Oatka Creek
State: New York
Country: United States
Caught On: Friday April 8, 2011