Pike Caught by Kyle with Mepps Syclops in Manitoba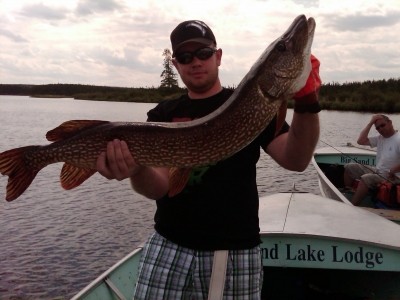 Download Image
Fish Information
Fish: Pike, Northern
Size: 38"
Lure Information
Lure: Syclops
Size: #2
Color: Hot Firetiger
Angler Information
Angler: Kyle Neufeld
From: Stonewall
Country: Canada
My Story
Slow trolling down the lake to our favorite walleye spot, my line went tight with what I thought was a snag on some rocks or something. To my surprise, as soon as we killed the motor to turn around, my reel started screaming and this big ugly monster took off with my line. After losing nearly all my line, he slowed down and tired out. I managed to get him in next to the boat where he caught his second wind and tangled himself in my line. We quickly netted him and pulled him up in the boat, and, my buddy almost jumped out of the boat when he saw it. Thanks Mepps!
Catch Information
Caught at: Jordan Lake
State: Manitoba
Country: Canada
Caught On: Saturday June 19, 2010