Bass Caught by Larry with Mepps Aglia & Dressed Aglia in Ontario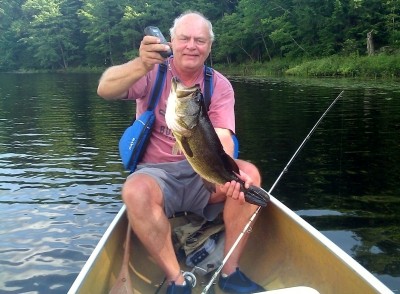 Download Image
Fish Information
Fish: Bass, Largemouth
Size: 22" 7 Lb. 3 Oz.
Lure Information
Lure: Aglia & Dressed Aglia
Size: #3
Color: Fluorescent Red (Orange)
Angler Information
Angler: Larry Smith
From: Orillia
Country: Canada
My Story
This was our 4th annual canoe/fishing trip to this backwood lake. We always catch a lot of bass from under a pound to 3 1/2 pounders. The largest has been one slightly over 5 pounds. We had fished from our canoe since 8:00 a.m. and it was now close to 6:00 p.m. My friend was finishing off feeding the last of his live frogs to some bass along the shoreline when I hooked into the biggest largemouth that I have ever caught. My favourite lure worked wonders this day.
Catch Information
Caught at: McRey Lake
State: Ontario
Country: Canada
Caught On: Monday July 9, 2012