Jack Pike Caught by Peter with Mepps Aglia & Dressed Aglia in United Kingdom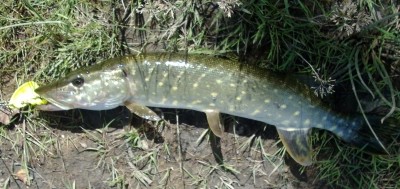 Download Image
Fish Information
Fish: Jack Pike
Size: ?
Lure Information
Lure: Aglia & Dressed Aglia
Size: #4
Color: Yellow
Angler Information
Angler: Peter Edwards
From: Manchester
Country: United Kingdom
My Story
I was casting my spinner along the edge of carpet of lily pads on the opposite margin of the canal when this little fella took my spinner. I purposely left the Aglia Fluorescent in the pike's mouth when I took the photo, to prove that it was caught on a Mepps spinner. The size/weight of this fish are not going to break any records, however on a very difficult days fishing, thanks to the Aglia Fluorescednt at least I didn't go blank.
Catch Information
Caught at: Bridgewater Canal, Manchester, England
State:
Country: United Kingdom
Caught On: Sunday July 22, 2012