Mepps Adds Firetiger Pink Dot Black Furys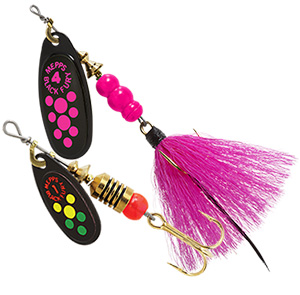 Following several seasons of color research and development, Mepps has added both a pink dot and firetiger Black Fury to its popular Black Fury line of spinners. These lures can be seen in almost any water color, at almost any depth, under almost all weather conditions.
"Mepps began seriously studying and experimenting with lure colors several years ago, comments Mepps Communications Director Jim Martinsen, when we began our color research we quickly discovered contrast is a huge factor as to whether a lure can be seen by a fish. As a result we have applied color technology to our entire lure line."
The firetiger and pink dot Black Furys are the fifth and sixth colors in the Mepps Black Fury line of spinners. Other colors are yellow dot, fluorescent red dot, chartreuse dot and white dot. Black Furies come in sizes to catch everything from panfish to tackle-bustin' musky. They are available with either a gold plated or dressed treble hook, or as a weedless Combo featuring a Mister Twister Keeper Hook and three Genuine Mister Twister Tails.
To see the entire lineup of Mepps® products, or receive a current Mepps® Tackle Catalog, visit our web site at www.mepps.com or call 800-637-7700. Sheldons' Inc., 626 Center St., Antigo, WI 54409-2496.