Mepps Adds Tandem Bucktail To Its Magnum Musky Killer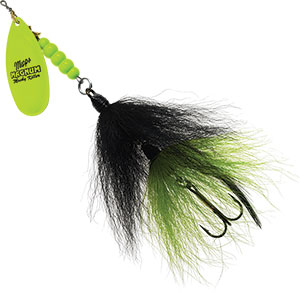 Mepps, the undisputed leader in musky bucktails, is now offering its Magnum Musky Killer with a tandem bucktail. The tandem tail not only enlarges, but enhances the profile of this already highly visible lure.
Mepps Magnum Musky Killers are packed with all the features musky and trophy pike fishermen look for in a big lure. A heavy #7 solid brass blade maximizes flash and vibration, and produces a thump that can be felt all the way up to your shoulder. In addition, the size of the Magnum Musky Killer Tandem matches the profile of large sucker minnows and big other forage fish. They are a whopping 143% bigger than a standard Mepps Musky Killer, and they can run both shallow and deep depending on the speed of your retrieve. An extra-strong split ring that makes changing tails a snap.
As if this weren't enough, every tandem bucktail is hand-tied with a premium heavy duty 5/0 Cone Cut hook and a 3/0 stinger hook. Color selection is unbeatable.
To see the entire lineup of Mepps® products, or receive a current Mepps® Tackle Catalog, visit our web site at www.mepps.com or call 800-637-7700. Sheldons' Inc., 626 Center St., Antigo, WI 54409-2496.