Mepps Aglia Marabou Perfect For All Species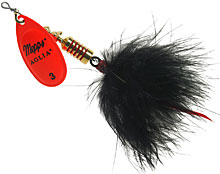 The Mepps Aglia Marabou, like the classic Mepps Aglia, is available in a size to satisfy any freshwater game fish. All Mepps Aglia Marabous combine the vibration and flash of a classic Mepps Aglia blade with the unmatched lifelike movement of a hand-tied marabou tail.
"We use the finest and softest marabou feathers available," Mepps spokesperson Jim Martinsen comments. "This creates the maximum amount of pulsating marabou action in the water," and it's this pulsating, along with the flash and vibration of the classic Mepps Aglia blade that attracts fish."
Like all other dressed Aglias, the Aglia Marabou also features a red turkey quill strike attracto - a Mepps trademark. If you fish the Mepps Aglia you owe it to yourself to fish it with a top quality, brightly-colored marabou tail. Nothing beats marabou for visibility and action in the water. Mepps Aglia Marabous come in six sizes, #0, #1, #2, #3, #4, #5 and a broad selection of proven colors.
To see the entire lineup of Mepps® products, or receive a current Mepps® Tackle Catalog, visit our web site at www.mepps.com or call 800-637-7700. Sheldons' Inc., 626 Center St., Antigo, WI 54409-2496.