Mepps Aglia Streamer Has Lifelike Action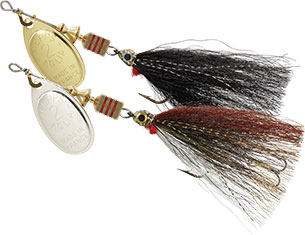 Mepps Aglia Streamer combines the vibration and flash of the classic Mepps Aglia blade with the subtle and lifelike swimming action of a hand-tied streamer. It makes the ideal presentation for the stream, river or lake angler fishing for trout, salmon or grayling. They are also perfect for the angler matching the forage base for bass, panfish or walleye.
Available with either one single hook or, a single hook with a treble hook stinger, there is an Aglia Streamer to match any fishing situation. All Aglia Streamers feature a lifelike, long-fiber Flashabou body for a natural minnow/baitfish presentation. Single hook Aglia Streamers meet single hook regulations. In addition, the Aglia Streamer has an easy streamer change body.
Both Aglia Steamer styles come in Mepps most popular sizes and blade colors making them suitable for a wide variety of freshwater game fish.
To see the entire lineup of Mepps® products, or receive a current Mepps® Tackle Catalog, visit our web site at www.mepps.com or call 800-637-7700. Sheldons' Inc., 626 Center St., Antigo, WI 54409-2496.