Mepps Bantam Syclops Perfect For Trout Or Kokanee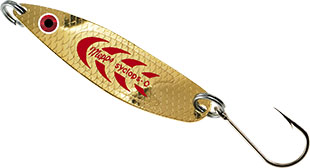 For those times when lighter is better, Mepps has the Bantam Syclops. Like the bantam weight boxer, these little spoons are lighter than the lightweights. They are perfect for both trout and kokanee salmon.
The tiny #00 weighs only 1/16 oz. and the little #0 weighs just 1/8 oz. Like all Syclops, the Bantam Syclops features 10 reflective surfaces for maximum flash. It also features an enticing side-to-side wobbling action. Deadly whether cast or trolled.
Bantam Syclops are available in proven twenty-first century Mepps Color Technology colors. All Bantam Syclops come with a bright, durable, extra sharp nickel-plated salmon hook.
To see the entire lineup of Mepps® products, or receive a current Mepps® Tackle Catalog, visit our web site at www.mepps.com or call 800-637-7700. Sheldons' Inc., 626 Center St., Antigo, WI 54409-2496.