Mepps Color Technology Adds Six Aglia Blade Colors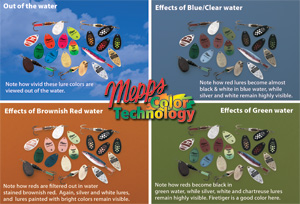 New colors in a fishing lure is not big news, but when that lure is the Mepps Aglia chances are a new color is going to make a lot of anglers very happy. The Aglia was invented in 1938, and over the past seventy years its design has not been changed and its components have all kept their original quality.
Despite the claims of a lot of "revolutionary" new lures, the Aglia remains the world's most popular fishing lure, and for a very good reason... More trophy fish have been caught on the Mepps Aglia than any other lure.
In the past few years Mepps lure designers, using the principles of Mepps Color Technology have discovered the vibrant colors they can create with today's computer age epoxy finishes can add significant contrast to a lure. This contrast makes the lure much more visible to the fish.
So, Mepps introduced six new color schemes throughout its Aglia lure-line. The new Hot green and hot green/chartreuse colors are perfect for fishing cold or cool water, while the new black/yellow/red Aglia blade really is ideal for fishing warm water. The three remaining blade colors are ideal for both cold and warm water species. They are: black, red platinum and silver/red dot. The learn more about Mepps Color Technology visit us on the Internet.
For additional information contact:
Nik Kolbeck
nkolbeck@mepps.com
Phone: 715-623-7556