Mepps Comet Mino Fish A Classic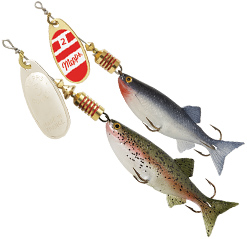 The Comet Mino has long been one of Mepps most popular lures. It will catch just about any freshwater fish species. Bassmaster magazine named the Comet Mino one of the 10 best bass lures of all time. Readers of Sports Afield selected the Comet Mino as their favorite bass lure.
All Comet Minos are carefully airbrushed to ensure realism. Their erratic swimming action makes them appear to be a wounded bait fish.
Comet Minos come in sizes #00 through #5. A #00 is an Ultra Lite spinner, weighing just 1/18 of an ounce. The hefty #5 Comet Mino comes with either a 3" or 4" Mino, making it the perfect lure for trophy fish.
Comet Minos are perfect for casting or trolling. Gold blades are polished brass. Silver blades are genuine silver plated. Whether you choose the classic shad mino or the rainbow trout mino you can't go wrong. All Comet Minos run at mid-depth.
Mepps, manufacturer of the World's #1 Lure, continues to ask hunters to save their squirrel tails. The tails are used to dress the hooks of Mepps, the original French spinner.