Mepps® Aglia®-e Triggers Predatory Response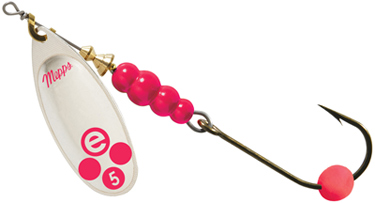 Antigo, WI - Appeal to the predatory responses of salmon, trout and steelhead by casting the all-new Mepps® Aglia®-e. The new Mepps® Aglia® -e offers the look and feel of a salmon egg with the proven fish-catching ability Mepps® is known for.
The spawn sac pattern on the blade and durable, life-like egg imitator on the hook of the Mepps® Aglia® -e will be sure to attract strikes.
Aglia® -e spinners come in 12 proven colors, six sizes and are available with a single or treble hook.
No other spinner takes advantage of the fixation trout and salmon have during spawning season like the Mepps® Aglia® -e. View the new Mepps® Aglia® -e at mepps.com/aglia-e or the Mepps Master Catalog. To receive a current Mepps Master Catalog, call 715.623.7556
For additional information contact:
Nik Kolbeck
nkolbeck@mepps.com
Phone: 800.637.7700